Obit: James "Two Speed" R. Hefter, 67, of Allenton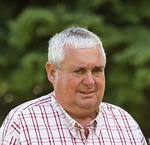 Sept. 15, 2018 – Allendon, WI – James "Two Speed" R. Hefter, 67, passed away on Wednesday, September 12, 2018 at his home. He was born on April 1, 1951 in Hartford, WI to Dennis and Doris (nee Bayer) Hefter. James worked in construction with his dad and brothers and later was very passionate about his job of 31 years at Super Excavators. He also loved playing "his numbers" and caring for his lawn.
James is survived by his wife of 46 years, Kathleen (nee Degeneffe) Hefter; children, Anne (Garry Jr.) Baizley; Susan (Jeremy Garbisch) Hefter, Beth (Rick) Bartelt; grandchildren, Alec, Jared and Paige Baizley, Morgan Garbisch, Brooklyn, Jake and Reese Bartelt; siblings, Robert, Sharon Benson, Nancy (Howard Brown) Hefter, Gary (Rosanne) and Ron; siblings-in-law, Elizabeth (Bill Canten) Janz, Jacquie (Vern) Wiedmeyer, Barb (Jim) Sauer, Connie (Garry) Breuer, Mary (Mike) Karius, Nancy (Mark) Breuer, Judy (Bruce) Krueger, Cindy (Mark) Schellinger, Mike Degeneffe, Janet (Jim) Brugger and Jenny (John) Schulteis. He is further survived by nieces, nephews, other relatives and friends.
James is preceded in death by his parents, parents-in-law Jack and Sally (nee Wood) Degeneffe, sister-in-law Anne Hefter and nephew Andrew Sauer.
Privates Services will be held.
Memorials are appreciated to a charity of choice.
If you knew him, he left you with a lasting impression.