Obituary | Lawrence S. Hoffman (Larry), 83, of West Bend
May 22, 2019 – West Bend, WI – Lawrence S. Hoffman (Larry), 83, passed away on May 21, 2019 at his home in West Bend. It was Larry's Mission to further educate the students of the Medical College of Wisconsin by donating his body.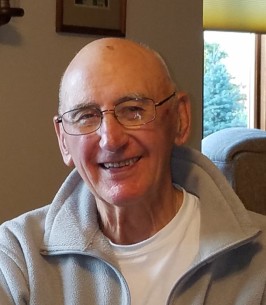 Larry was born on July 9, 1935 to the late Joseph and Pauline (Mayer) Hoffmann. He grew up in Hartford, attended St. Kilian grade school and graduated from Hartford High School in 1953. He was a life –long resident of Washington County.
On May 4, 1957 Larry was united in marriage to the love of his life, Charlotte Rusch. They were married at St. Francis Cabrini in West Bend and were blessed with 62 years of marriage.
Larry enjoyed tinkering on engines, fine tuning them to run smooth. His love of engines paved his way to beginning his career with Detroit Diesel Allison for 36 years. He began as a mechanic, working on huge mining equipment, yachts, and trucks. He furthered his career with the company retiring in 1999 as a Sales Engineer.
One of the other parts of his life he was most proud of was serving his country in the Wisconsin National Guard for 17 years; served on active duty from 1961-62. He retired with the rank of Captain and was a member of the West Bend American Legion Post 36.
He was civic minded. He served on the West Bend Housing Authority Board of Directors for 15 years. He was elected as a Washington County Supervisor and held the position for 6 years, also served on the City of West Bend Ethics Committee.
Larry had many hobbies. One of many things he enjoyed was high power rifle marksmanship at the West Bend Barton Sports Club. He also enjoyed fishing, photography, traveling and a cup of coffee with friends. But his greatest pleasure in life was spending time with his family, grandchildren and great-grandchildren.
Larry is survived by his wife Charlotte, two daughters Sherie (Jack) Kruse and Lisa (Steve) Schroeder both of West Bend, 4 grandchildren Robin (Kevin) Gill, Ryan (Ryan Marie) Kruse, Travis Achterberg and Hope Achterberg, 2 great granddaughters, Charla Gonyo and Mallory Gonyo and 1 great grandson Carson Kruse
He is further survived by his sisters, Loretta Pauly of Sun City AZ. Joynell Becker of West Bend, Jeanette (Donald) Warnecke of Wausau, WI. Sister in law Erlene Brehmer, of Little Chute WI, close nephew Rick Rusch of West Bend along with many other nieces, nephews, other relatives and many dear and close friends.
He is proceeded in death by his parents, his sisters, Leona Kramer, Viola Funk, a brother Joseph Hoffmann, six brother in laws, William Kramer, Leland Funk, Anthony Pauly, Russell Becker, LeRoy Brehmer, Roger Rusch and sister in laws Darlene (Peggy) Rusch and Anna Hoffmann.
A Memorial Mass will be at 4 p.m. on Wednesday, June 5, 2019 at St. Frances Cabrini (1025 S. 7th Ave West Bend, WI 53095) with Rev. Nathan Reesman presiding. Visitation will be at church on Wednesday, June 5, 2019 from 2 p.m. until 3:45 p.m. Interment will be a later date at Washington County Memorial Park.