January 30, 2021 – West Bend, WI – Little Lydia captured the hearts of a bunch of misfit chefs last night.
If you haven't been to the Precinct Tap & Table yet, we have a bar at the edge of our open kitchen. You can dine, drink, and watch the show but be forewarned if you heckle us, you'll need to be prepared to have it dished back. That's part of kitchen life on a daily basis; it's a sort of unspoken comradery within the restaurant family.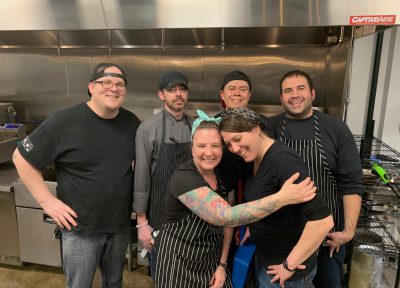 Our kitchen bar was a must have for me when designing the layout of the Precinct. It's my favorite place to eat when I have the chance to dine out. I specifically seek out establishments that have open kitchens for a whole myriad of reasons.
Oddly at times I feel it was one of my biggest mistakes after opening as people are so hesitant to sit at our kitchen bar. It's no different than sitting at a bar serving alcohol; you are just watching us prepare your dinner instead of your cocktail.
Friday evening proved to be an amazing night, pleasant, joyful, and generous guests, staff was on point, we were in our groove, and then Little Lydia sat at our kitchen capturing our hearts last night.
On a Daddy/Daughter date, we watched her as she surveyed our every move, her father explaining step by step what we were doing. Her intense little eyes would get as big as saucers as kitchen noises abounded onto her tiny ears. A smile to melt the heart of even the most cold hearted cook.
As the evening went on her server came over to me on the line and whispered in my ear, "Little Lydia wants to be a chef someday."
Now mind you even more after the trial and tribulations of 2020 and the mental toll among  other things this last year has had on this veteran chef, my normal response would be for a child that age is not to encourage it. It's a life of long hours, hard work and next to no social or family life. Additionally I have a complete disregard for what Hollywood has made our industry out to be – romanticizing it for the general public.
But I continued to cook, watching her observe our every move. Something came over me, and I thought to myself – these last 11 months I have preached about supporting my own business and also every small independently owned restaurants as I know the reality of my industry at any moment could come to a staggering halt.
The more I pondered, the more I thought we are going to need little Lydia's to carry on this industry. If she can come here and watch reality and not TV, then we are educating her the right way, allowing her to decide on her own as she gets older if she wants this life.
I then asked one of my kitchen team members to go in my office and find a small precinct shirt. She asked, "For what?" I told her what my plan was, she smiled and did the task I asked.
I then walked over to Little Lydia and started to chat with her. We talked about what she and her father cooked together on the weekends. Being a mom and a chef I truly believe cooking with your children is one of the best gifts you can give a child. It gives them exposure to new flavors, a knowledge of where their food comes from, teaches them math, patience, cleanliness, and more. Besides, it's just time spent with a your child that wants nothing more than to just "be" with you.
I gifted her the Staff shirt, her father thanked me, and I said "my pleasure." Again, those eyes and smile were enough to warm the whole dining room on this very cold Wisconsin night.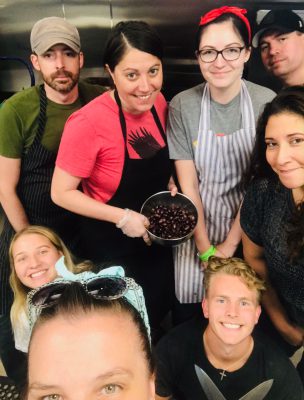 The rest of the kitchen staff continued  to engage with Little Lydia for the rest of the evening. Her father thanked us and probably thought we were trying so hard to give his little girl a special experience. However, in reality, Lydia gave us that experience last night with her innocent wonder for what life is like on our side of the line.