19th Annual Thresheree at Richfield Historical Society is Sept. 16 and 17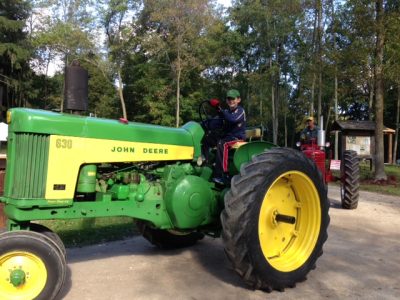 Sept. 5, 2017 – Richfield, WI – The Richfield Historical Society is hosting its 19th Annual Thresheree on Saturday and Sunday, Sept. 16 and 17, 2017 at the Richfield Nature/Historical Park, at 1896 State Road 164, Richfield.
On-site parking is free.  There is a $6 admission fee for adults and children 12 and under are free.
Come early and enjoy a pancake breakfast from 9 a.m.-11 a.m. daily.  Daily events that you won't want to miss are the Pie Contest Judging and Sale at 10:30 a.m. and Antique Tractor Parade at 11:30 a.m.
New this year  is a Live Auction following the Tractor Parade on Saturday.  Take a short stroll to the Lilliecrapp Homestead House/Welcome Center and its display of threshing and barn photography.
This year's Thresheree features the dedication of the new Blacksmith Shop on Saturday and Sunday at 1 p.m.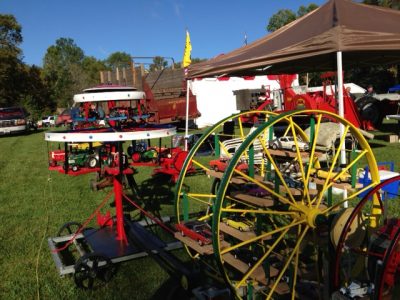 The Thresheree also offers a wide array of displays of antique tractors and working antique farm machinery and steam engines.  Antique threshing machinery will be threshing grain while a steam engine powers a saw mill and draft horses are plowing the fields.
Daily vendor demonstrations include spinning, weaving, hooking rugs, blacksmithing, rope making and much more.
Threshree daily events include several take home activities, rope making, and Make Your Own Scarecrow.  Kids can also test their skills at building a log cabin and finding prizes in the Straw Pile Treasure Hunt for children 12 and under.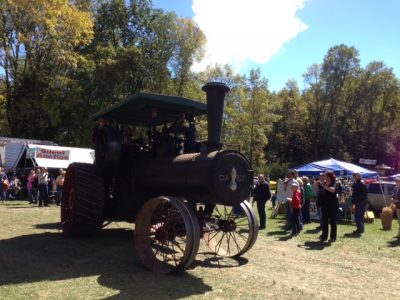 Prepare to shop and find bargains in the Silent Auction Tent and look for home made sweet treats, produce and flowers at the Sweets 'n Stuff Tent.  Many of the vendors demonstrating crafts also have items for sale.
Funds raised at the Thresheree and our other events support the Society's educational programs and maintenance of the Richfield Historical Park.
For more information and directions visit the website www.richfieldhistoricalsociety.org and stay connected on Facebook and Twitter.
The mission of the Richfield Historical Society, a 501c3 non-profit corporation, is to discover, collect, preserve and promote the history of the Village of Richfield.