America Hunts on Legendary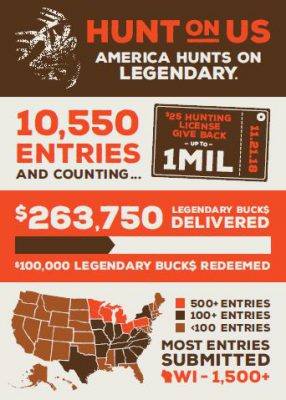 Nov. 20, 2018 – Slinger, WI – Legendary Whitetails hunting license giveback is in full force.  With one day left to go, the company has already given back over $250,000 in Legendary Bucks to eager hunters.
If you haven't heard about the giveback, it's a new initiative from the hunting apparel retailer aiming to encourage hunting participation and help support conservation across the country.
Company President Greg Huffman said, "While license costs are only a small piece of what it takes to go hunting each year, license sales are a major component of state's conservation budgets.  The 'Hunt on Us' campaign is our way of supporting conservation and connecting with hunters in a more meaningful way."
If you're hunting this year, here's how to participate:
Step 1: Visit www.huntonus.com
Step 2: Upload a screenshot or picture of your hunting license
Step 3: Enter your email address
Step 4: Receive $25 Legendary Buck$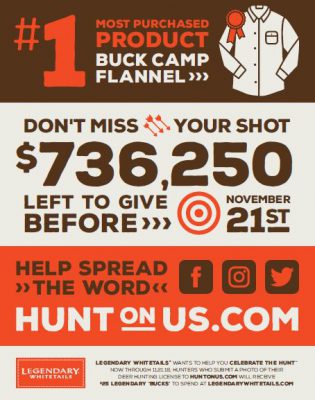 The giveback ends Nov. 21, so make sure to claim your Legendary Buck$ soon!
Happy Hunting.