A family tradition in West Bend announces it is For Sale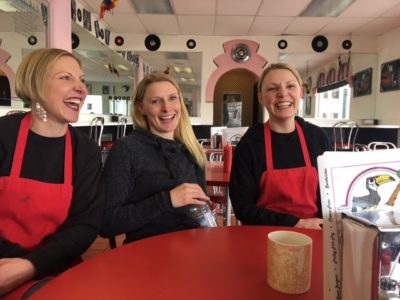 Feb. 10, 2017 – West Bend, WI – The Moehr girls are notifying staff today they've made a family decision.
"We are announcing as a family we've decided to sell our business Toucan Custard," said Rebecca Moehr- Lambrecht. "It's been a huge part of our life and a part of our heart for the past 27 years, and with our dad's passing this year it feels fitting that the torch also be passed with Toucan."
During a Friday morning gathering at Toucan, the Moehr girls discussed their decision while taking frequent breaks down memory lane about growing up as the daughters of Al Moehr and working at Toucan.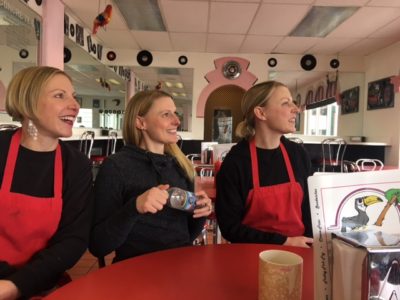 "The frozen custard shop was our dad's baby and it was a great part of our childhood," said Jacquelyn Heise. "I've been here all 27 years."
Al Moehr bought Toucan when Jacquelyn was 14 years old. "I didn't really have any thoughts on it," she laughed. "I had my own thing going on."
Rebecca vividly remembered walking down the hill with her brother Allen to get ice cream. "I was 9 years old and we lived close and my brother and I walked down here. It was fall and although it was cold we sat outside eating a black forest ice cream cone," she said.
"We were by ourselves and we were able to get whatever we wanted."
The girls recall having instant jobs and climbing the ladder from the entry-level position of making waffle cones to serving custard then on to manager.
"None of us really wanted to cook," said Jacquelyn.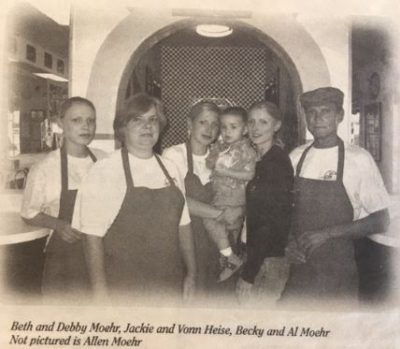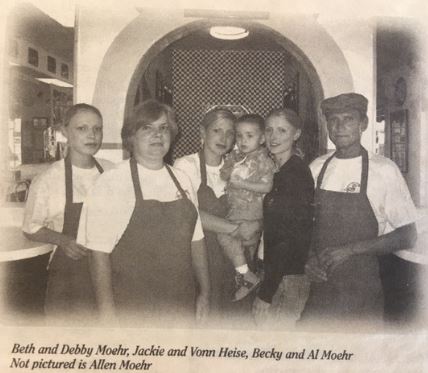 "I remember I was a manager at 14 years old because my dad needed one," said Rebecca. "I cried and said 'I can't be a manager.'"
Rebecca remembered being younger than the 16 year olds that she had to train. "It was so weird," she said.
Just in their teens and running a business, the girls said their dad was normally a phone call away.
"Oh, dad would call down here like six times a shift," said Rebecca. The pair then mimicked Al's grilling. "How are things going? How much custard do you have? Do you need help?"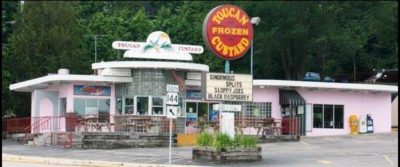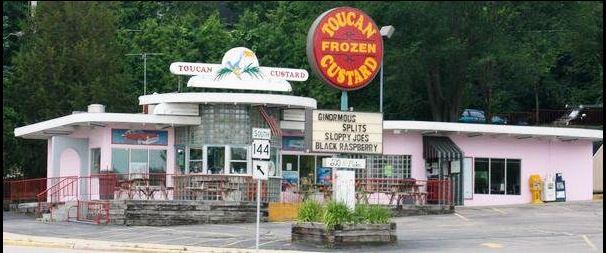 The decision to sell the business came from a couple different angles. Larry Porter and his wife own the building with a business partner who passed away in April. The girls said they too had concerns about their mother's health.
"For us, my mom had been sick; she's recovered but this is a family thing for us and if the whole family is not here – with dad gone it just seems kind of bittersweet that it should go with him," said Rebecca.
The business was quietly listed a couple months ago with BOSS Realty at $99,900; now it's at $89,900.
The building is for sale at Coldwell Banker.
Mentioning how Toucan is an institution in West Bend hits the girls right in the feelings. "That's the part that makes me want to cry," said Jacquelyn as she grabbed a paper napkin and dabbed tears.
"We have a strong emotional attachment to it, that's for sure," said Rebecca.  "We hope someone who loves it as much as we do will take it and make it the same."
Some people who found out earlier about the family's decision are adamant nothing change with the sale. "Everybody wants it to be what it is because everybody has a memory," she said.
Toucan has also been a drop site for vintage memorabilia. Look around the walls of the checkered-floor restaurant and you'll see a number of toucans, a donated framed picture of Elvis and a car. "The picture belonged to the parents of one of our customers and she had a little plaque made for it because her parents loved it down here," said Jacquelyn.
There was also the 3-foot stuffed toucan a woman won at the county fair that hung out in the corner of the restaurant for a while.
"Remember the toucan car?," said Rebecca.
Al always drove Cavaliers when he worked for AT&T. "He'd pile the miles on and he eventually put Toucan on the side and the address on the back and he got Toucan license plates. When we were 16 we had to drive that car because he knew we'd behave in the Toucan car," said Rebecca.
That car, so the story goes, once had a toucan on top that held a magnetic sign advertising the flavor of the day. "Dad went under a parking structure and ripped that bird off the top," Rebecca said.
The girls told their children earlier this week about their decision to sell… and that didn't go over well.
"They were devastated," said Jacquelyn. "My daughter laid on the floor and cried."
The Moehrs' understand their children's reaction; they too grew up in the business.
"We'd bring our babies to work, sitting in highchairs gnawing at cones while we'd do setup," said Rebecca.
Thoughts of Al Moehr creep back into the conversation. "He had a lot of great one-liners like 'that one's as sharp as a marble' and he'd always want us to have our lips on," said Rebecca. "He just thought if you didn't have lipstick on it made you look tired; lipstick meant you were ready for the day."
For a teenager in the restaurant business, Friday nights meant fish and working with your dad. "But it was really stressful in the cooking line because mom and dad were both there and we couldn't talk," said Jacquelyn.
"He'd yell at someone to get the phone or he'd be throwing stuff at us but he made it fun," said Rebecca. "He'd be pushing his glasses up and say with urgency, 'Beck can you believe this? Can you believe what's goin' on down here right now?'
"I'd say, no dad I can't believe it," said a mono-tone Rebecca. "He just loved it because it was so busy."
While Al Moehr had his own unique personality, the girls developed a following as well.
"Da' Moehr girls down at Toucan," said Rebecca with a Midwest-Bender accent.
They acknowledge they look alike and it's difficult to tell them apart.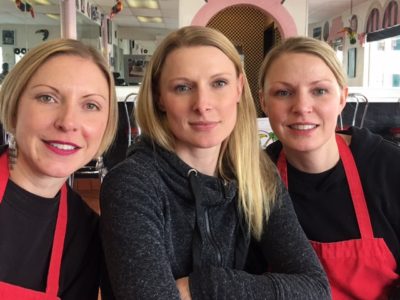 "We had one customer, a 12-year-old boy, and he'd look at our shoes and that's how he'd know which one was which," said Rebecca.
When John McGivern visited to do a segment on Toucan for his Around the Corner show he remarked, "Can Al Moehr have an ugly daughter?"
Al Moehr's legacy is a long list from the creation of the Duck Derby Kiwanis to the taco cheeseburger to the fried baloney sandwich. "Dad was watching a travel channel show and there was place in Michigan that sold 3,000 a day … so he thought he'd try it," said Jacquelyn.
Some people, according to the girls, still ask for it.
"We have many great memories of working together as a family and with all our great employees both past and present," said Rebecca. "We want everyone to know we're not closing but we're hoping to find somebody who loves Toucan as much as we do who can carry on this awesome tradition."
The Moehr girls said they will be "here until the end" and will celebrate the eventual sale with a big party. "We're going to make a memory book…. something so our kids can remember this, too," said Jacquelyn.
Photo courtesy 2003 The Booster
About Author
Judy Steffes
First-run stories from a trusted reporter who has lived in West Bend/ Washington County for over 33 years. Business/faith/education/community/history/arts.