A note of 'Thanks' to Delta Defense for supporting the Tour of America's Dairyland
August 28, 2017 – West Bend, WI – A token of appreciation was passed today from the Downtown West Bend Association to Delta Defense.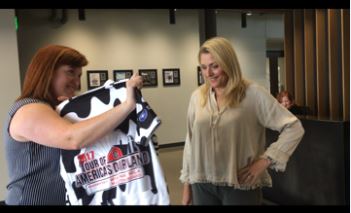 "We greatly appreciate Delta Defense being our major sponsor for the Downtown West Bend Concourse Bike Race," said DWBA event manager Anna Jensen. "We would love if they continue to support on this event."
This was the second year the DWBA was able to host the Tour of America's Dairyland.
The bicycle races run through an area just south of the downtown shopping district; the races feature colorful, fast-paced action and draw hundreds of bicycle enthusiasts and spectators to the community.
The date for 2018 Concourse Bike Race/ Tour of America's Dairyland has yet to be determined.