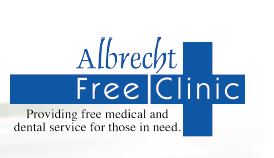 Dec. 9, 2017 – Washington Co., WI – A big announcement from the Albrecht Free Clinic, 908 W. Washington Street in West Bend, as it unveils $50,000 matching grants from Aurora Health Care and Froedtert & the Medical College of Wisconsin.
According to Ruth Henkle, executive director with the Albrecht Free Clinic, Froedtert and Aurora, have agreed to underwrite a challenge grant as each will provide a $50,000 match.
"As a result, each dollar raised will result in three dollars in funding for our community healthcare services," said Henkle. "If the rest of us rise to the challenge and contribute $50,000, we'll generate $150,000 more to continue and expand our mission."
The Albrecht Free Clinic provides access to basic, quality medical care through the generosity, caring and compassion of volunteers and donors.
Neighbors will receive a mailing from the clinic this weekend that details its medical, dental and behavioral health services and how it has seen a 46 percent increase this past year.
Over $86,000 was recently raised during a matching campaign with the Thomas J. Rolfs Family Foundation.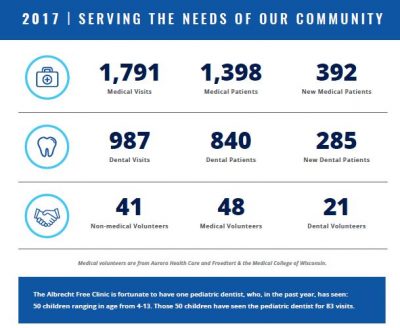 Carrie Killoran, executive vice president – central region, Aurora Health Care said Aurora Medical Center in Washington County has a long-standing relationship with the Albrecht Free Clinic.
"Aurora Medical Center remains committed through volunteerism and service delivery," wrote Killoran. "We are especially proud to be a part of this very important initiative to help secure the future of the Albrecht Free Clinic so that they can continue to serve those in need.  Their work aligns perfectly with Aurora's purpose to help each other live well."
Henkle said the organization would not be able to exist without the support from both Aurora and Froedtert.
"The majority of our volunteer medical providers come to us from both healthcare systems," she said. "In addition, they support the care of our patients through a voucher program so our patients can receive labs, X-rays and specialty care they need that we do not provide at our clinic.
"We also send our patients to their pharmacies for medications.  There are many additional things both systems do to support our operation. We have a wonderful partnership with Aurora and Froedtert and they truly value us as a safety net for the uninsured medical population living at 200 percent or below the federal poverty level."
Donations can be made between now and January 31, 2018 to take advantage of the opportunity to triple your impact by participating in the Aurora/Froedtert challenge grant.