Allenton, WI – The Allenton Picnic Committee Friday Fish Fry is August 14.  This fish fry is following the tradition of the Allenton Annual Picnic Friday Night Fish Fry.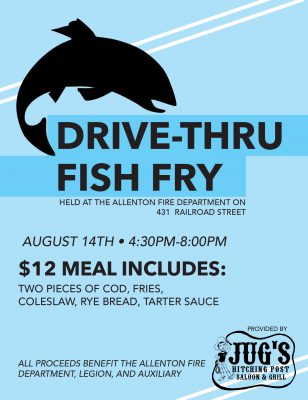 The event is co-sponsored by the Allenton American Legion Post 483 and its Auxiliary and the Allenton Volunteer Fire Department.  2020 has dealt a significant blow to many non-profit fundraisers.
This includes the major fundraiser for the Allenton Legion and Fire Department.  Money normally raised by the Annual Picnic third weekend of August helps with scholarships, Badger State Boys and Girls week, purchasing equipment for the fire department and much more.
The goal for this fish fry is to sell 1,000 meals which will include two 5 oz. cod fillets, cottage fries, coleslaw, rye bread and tartar sauce, all prepared by Jugs Hitching Post.  To help serve our customers in a more expeditious manner, we have doubled up the number of deep fryers and have reworked the entrances to accommodate a better flow of traffic.
The cost of the meal is $12 each and the fish fry will run from 4:30 p.m. to 8 p.m. or until food runs out.