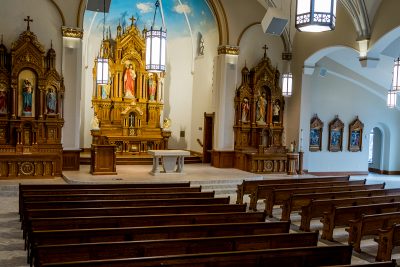 April 14, 2017 – Slinger, WI  – St. Peter Catholic Parish in Slinger, will celebrate a Mass of Dedication and Blessing with Archbishop Jerome Listecki at 5 p.m. on April 22 in the newly renovated and expanded church.
The dedication and blessing will consecrate the new newly renovated building as a permanent worship space. Archbishop Listecki will be blessing not only the physical church building and altar, but other items and areas of the church as well.
There will be a reception to follow in St. Peter Church Hall. Please note the usual 8 p.m. Mass will be cancelled Saturday, April 22, 2017.
The construction project expanding the original 1892 building began a year ago on February 29, 2016.
The goal to increase church seating capacity has been met, as 740 people can now sit in the main nave, as compared to the original 450 seating capacity. New meeting rooms, an expanded gathering space, and a more spacious church hall and kitchen have also been constructed.
Parishioners are also in the midst of completing a $600,000 furnishing campaign. This campaign will pay for and install all of the church's stained glass windows and other new furnishing items throughout the building.
An open invitation to worship and celebrate Mass is extended to all.
Visit stpeterslinger.org, to see other spiritual opportunities and building expansion details.