March 19, 2020 – West Bend, WI – It's a chilly March 19 and neighbors in Washington County are welcoming the first day of Spring.
According to the Farmer's Almanac:
In 2020, the spring equinox (also called the March equinox or vernal equinox) occurs on Thursday, March 19, which is earlier than it's been in over a century! This event marks the astronomical first day of spring in the Northern Hemisphere.
For much of the last century, the spring equinox has occurred on March 20 or 21. This year, however, the equinox happens on the 19th in all U.S. time zones, making it the earliest spring we'll have seen in our lives (so far). The last time spring arrived this early was in 1896—a whopping 124 years ago!
Signs of spring are cropping up in my yard. How about you? The crocus are so small and colorful and mighty to be able to weather the cool nights.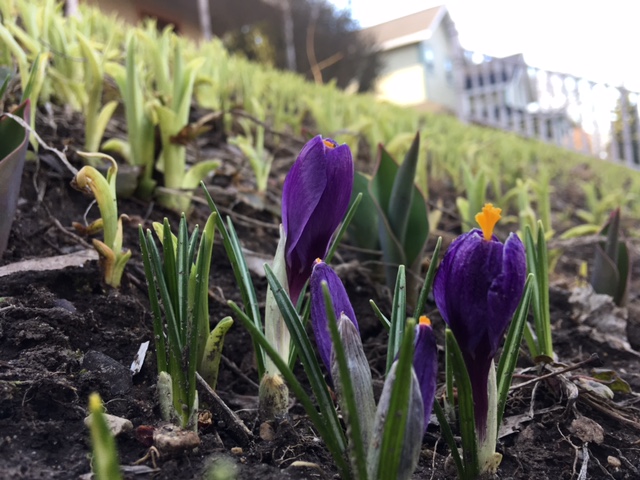 Poem by Emily Dickinson
The feet of people walking home
With gayer sandals go-
The Crocus-till she rises
The Vassal of the snow-
The lips at Hallelujah
Long years of practise bore
Till bye and bye these Bargemen
Walked singing on the shore.
Pearls are the Diver's farthings
Extorted from the sea-
Pinions-the Seraph's wagon
Pedestrian once-as we-
Night is the morning's Canvas
Larceny-legacy-
Death, but our rapt attention
To Immortality.
My figures fail to tel me
How far the Village lies-
Whose peasants are the Angels-
Whose Cantons dot the skies-
My Classics veil their faces-
My faith that Dark adores-
Which from its solemn abbeys
Such resurrection pours.
Emily Dickinson, 1858–#7