Around the Bend: Updates & tidbits by Judy Steffes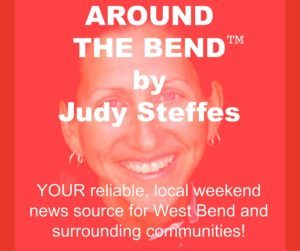 -There are a couple of write-in candidates for this year's Washington County Board race. Denis Kelling is a registered write-in for District 6 and Andy David is a registered write-in for District 3. Whoever receives the highest number of votes will be the winner.

-Wednesday, March 30 at 10 a.m. the West Bend City Clerk will conduct a public test of the electronic voting system. This is being done prior to the April 5 election.

– In-person absentee voting for the spring election runs through April 1. Clerks across Washington County report "a steady turnout." Election Day is April 5 and polls open at 7 a.m.

-Holy Angels School is preparing for its 6th annual indoor rummage sale Saturday, April 2 and 3. Donations will be accepted this weekend including gently used, unwanted items: bikes, tools, home décor, clothing, dishes, books, toys, sporting goods, etc. in the Walnut Room of school.

-On Thursday, March 31 a meteorologist from the National Weather Service will conduct Severe Weather Spotter Training at the Germantown Village Hall, N112W17001 Mequon Rd. in Germantown. The session will begin at 6:30 p.m. and last approximately two hours.

-Thrivent Financial will host a Shred Fest on April 30 from 9 a.m. – noon at 810 E. Paradise Drive. Shredding will be done at no cost but participants are encouraged to bring items, necessities that will be shipped to Support the Troops Wisconsin.
-Adam Williquette of Anderson Commercial and Paula Becker from RE/MAX United presented a check for $1,322 to the West Bend Moose Lodge. Williquette and Becker agreed to donate an amount equal to 20 percent of their commissions to the lodge, from the sale of real estate sold or bought by a Moose member or a referral from a member. The first sale, a ranch in Menomonee Falls, was sold by Becker on Feb. 26. Moose members, Wayne and Michelle Lesperance, were the previous owners of the home. "We look forward to being able to give back to an important institution in our community in the hopes the Lodge can use the money for needed repairs and upgrades," Becker said.
– In Hartford the public works department is starting to reach out to private owners of Ash trees affected with the Emerald Ash Borer as neighbors are urged to work with one another on private tree-removal services to get quantity discounts.
-Mountain Outfitters, 109 S. Main St., in West Bend will host a warehouse sale April 1 – 3 with over 100 used bikes, close out bikes, parts, accessories, clothing and shoes.