May 13, 2022 – West Bend, WI – An electric scooter company is getting ready to test the waters in the City of West Bend.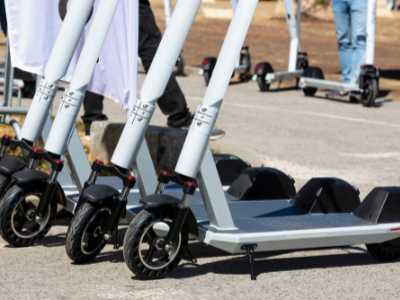 Bird scooters are mentioned in the City's agenda item for Monday, May 16, 2022. According to the Bird website the company partners with "cities and universities across the world to provide new transportation options, complement public transit systems, and invest in safety infrastructure that benefits everyone."
On Monday the West Bend Common Council will review an ordinance update which includes bicycles, in-line skates and electric scooters. It couches the changes proposed as "necessary for health and safety of residents and visitors."
Click HERE to SUBSCRIBE to FREE local news at
The portion of the ordinance proposal pertaining to electric scooters addresses speed, storage, areas of use…
Interesting to note, according to the proposed ordinance, the electric scooters can operate on the sidewalk in the Downtown West Bend Business District, however bicycles cannot.
Gene Biertzer heads up the Downtown West Bend Association. She questions the common sense behind pedestrians walking on a sidewalk and having something mechanical operating on the same narrow sidewalk.
"I don't think motorized vehicles and pedestrians belong on the same small sidewalk," she said.
District 2 alderman Mark Allen said the scooters exist as rentals in other communities and "they seem to work out well." "I didn't personally observe any issue with people abusing them in public," he said noting Milwaukee and Sheboygan also have rental scooters.
"To the best of my knowledge nobody is having issues with them; people enjoy them," Allen said.
Questioned who he's spoken to, Allen said it was his observation.
Also asked, what happens when the electric scooter runs out of juice, Allen said, "You push them."
"When an electric vehicle runs out of power you either put it back on charger or push it or park it legally," he said. "It's no different than somebody who has a Tesla. You call a tow or find a place to plug it in…"
District 5 alderman Jed Dolnick had some concerns about the scooters downtown. "Bicycles aren't allowed on the sidewalks in the downtown and Barton business districts because of the risk to pedestrians. It doesn't make any sense to allow electric scooters in those same areas," said Dolnick.
There were also concerns about the number of dockless scooters in the proposal from Bird.
"There would be up to 100 "dockless" scooters allowed," said Dolnick. "They're not rented from, and returned to, a kiosk or storefront. They're rented with an app, driven around, and can be left anywhere. The police department can only order the company to retrieve them if improperly parked; otherwise, they can stay there until the company decides to move them."
District 8 alderwoman Meghann Kennedy had similar questions. "Bird hires people to pick up the scooters at night and then charge them when they need to be charged," she said.
The scooters have a GPS tracking system built in. "My concern is they're going to be strewn across the sidewalk and creating trip hazards and thrown into the river by drunk people… I'm not a fan of Bird coming in and I definitely have concerns. We have more to discuss on Monday night, but I prefer we didn't have them," she said.
"I can see it in Chicago if you need to walk three miles to get to the next shop… but in downtown West Bend," questioned Kennedy.
"I think our plan is to at least put tight caps on where they can be, the times they can be used, and things like that," said Kennedy.
Below is the portion of the agenda that addresses the rental electric scooters.
NOTE: The part about the bicycle registration for $10 and transfer sticker fee of $5 has already been a longstanding ordinance in the City of West Bend.
The Common Council meets Monday, May 16, 2022, in the council chambers at City Hall, 1115 S. Main Street. The meeting starts at 6:30 p.m. and is open to the public.