West Bend, WI – Bloomin' Holidays Wine Walk  is Saturday, November 9 | 4 p.m. – 7 p.m. 
Shop, sip, and swoon over the sights of downtown West Bend at the inaugural Bloomin' Holidays Wine Walk. Start at the Museum of Wisconsin Art for your first taste and explore floral arrangements in the art galleries and an indoor artist marketplace. Then head to 20 more nearby destinations for wine, treats, and shopping along the way.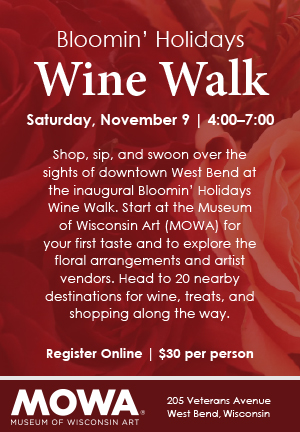 SOLD OUT!
Join the wait list. Contact Jessica at 262-247-2266 or [email protected]. Please note that we cannot add additional registrants. If a registered participant cancels, we will work from the wait list.
Registered Participants: Keep an eye out for event details in your email on Monday, November 4.  At check in, plan to bring your photo I.D. to verify your age (21+). No tickets are needed since everyone has pre-registered online. Your reservation will be held under your last name at check-in. 
To read more click HERE.