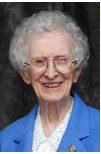 July 7, 2017 – West Bend, WI – This past summer, I had the opportunity to meet S. Marlena, and visit with her a few times. I found her to be a dynamic, funny, interesting woman, filled with kindness, good stories, and a deep love of God. She shared some memories of her time at Cabrini, and her long career as a School Sister of Notre Dame.
She was born in Milwaukee in 1917, in the depths of World War I, the youngest of six children. Her parents were born in Czechoslovakia, but both came to America as teens. Baptized Amalia, as a child she was called Molly. Her neighborhood was home to many Czechoslovakian immigrants, and at St. Stephen's, where she attended grade school, books for younger students were half in English, half in Slovak. Many of the students came from homes like hers, where Slovak was spoken most of the time. "Teaching had to match the children," she said, a philosophy that guided her throughout her career.
When asked why she became a nun, S. Marlena laughed and said, "It was like going into the family business." Her family was Catholic. Her church was Catholic. Her school was Catholic. Her neighborhood was Catholic. She loved the nuns, and always seemed to know that she was going to be one. After 8th grade, she entered the Juniorate, and followed through to Profession in 1936.
Her first teaching job was in Chicago, at St. Alphonsus. It was an enormous school, with more than 1000 students and 48 Sisters. Despite her tiny stature, her leadership skills became obvious. Her next placement was as the principal of a brand new Chicago school, St. Helena of the Cross. After nine years, she was sent to West Bend to open another new school, Saint Frances Cabrini.
The school was the first building constructed on our campus. There was no church building, no convent, and no rectory. Mass had been held in the gym at McLane Elementary School, but once our school was completed, Mass was celebrated in our school, where we now have the library and computer lab. Although the School Sisters typically lived in a convent on the grounds of the school they served, with no convent that wasn't possible here at first, so Cabrini's School Sisters shared the Holy Angels convent, and drove back and forth. S. Marlena smiled as she remembered, "I spent my whole life coming and going. But I enjoyed every minute of it."
At S. Marlena's funeral, S. Joan Emily, who taught at Holy Angels at the time, told a story about those days. The Cabrini nuns were given a large, open room on the upper floor of the Holy Angels convent. The room had to serve as both the common room, with desks for working and room to relax, and the dormitory, where no talking was allowed. With her trademark playful humor, S. Marlena pointed to a spot on the floor. "This is an imaginary line. On that side of it, you may laugh and talk and socialize. But when you cross this line, it's time for silence and quiet reflection."
Her students had a great deal of respect for S. Marlena. She was sometimes referred to as the Little General, and indeed, she didn't put up with much. One student reportedly said he was in the office so much that he spent more time with S. Marlena than he did with his own mother. But more than that, her students loved her, and when they reminisce, they do it with a smile.
In the very early days of the school, things were different. There were no specials. There was no gym. Various classrooms were used for Phy Ed. There weren't many opportunities for field trips. These days parents help out in the school a lot, but back then, they helped out even more. S. Marlena served multiple roles. She was the principal, and she also taught 5th grade, "plus other jobs. Whatever needed to be done."
She was at Cabrini for seven years. From Cabrini, S. Marlena went on to open one more school, St. Peter in Port Washington. After that placement, she entered Provincial leadership, and had the opportunity to travel to South America and to Rome. She finally retired at age 80.
Sisters spoke about what a good friend she was to them, and what a good leader, and many called her an inspiration. One Sister told the story of the time she was frustrated by a bookkeeping nightmare that she couldn't unravel. She took it to S. Marlena, who said, "Let's get on our knees and pray for help." When they returned to the problem, they were able to solve it completely. Ever since, the Sister remembers the lesson of that powerful moment.
Turning 100 seemed to amaze Sister Marlena, and led her to some self-reflection. During one of our visits, she shook her head in bemusement and said, "Just think of it. Every one of my hairs is 100 years old." On another visit, she said that although she'd enjoyed good health most of her life, once she turned 100, she started to feel "icky." As time passed, that feeling grew "ickier." But she saw the blessing in it, saying that finally she had learned to accept whatever God had in store for her. "Poor God," she said. "He had to wait 100 years for that."
S. Marlena was alert, sharp and full of life, but a week before her death, she had a bad fall. And now she is with God. She touched many hearts in her 100 years of life, including mine. I feel blessed to have known her.
Editors note: Sr. Marlena Janis, SSND, passed away on June 29, 2017 at the age of 100. She was the first principal of St. Frances Cabrini School in West Bend.