Carole Severson, a professional realtor at Re/Max United in West Bend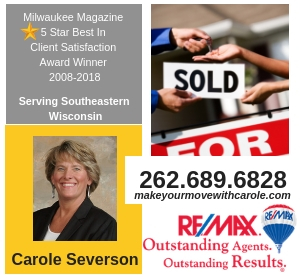 "When I was in high school in Milwaukee I worked afternoons during my senior year at a small real estate company called Adam Mayer Real Estate.  I typed up offers, listings, etc. but that is what got me interested in real estate.

I worked at K & H Realty for four years and decided to go to a bigger company.  I was at Shorewest 26 years.  Even though Shorewest was a great Company I decided it was time for a change and went to RE/MAX United in January 2018.

I felt I was up for a new challenge and RE/MAX gave me the flexibility that seemed to be a good fit for my business."
Severson has sold real estate for 30 years with career sales over $300 million. "I am ranked in the top 5 percent of realtors and have been awarded the Milwaukee Magazine 5 Star Award for Best In Client Satisfaction from 2008-2018.  I pride myself on the exceptional service I provide to my clients which is why I have a high percentage of repeat customers and referrals," she said."
Severson and her family have lived in West Bend since 1987. "My husband Al and I have married 40 years this past June and he's always supported me in everything I have done," she said.
The couple have two children, Ross and Miles, who was in the first graduating class at Living Word Lutheran High School.
The Seversons have four grandchildren with another one on the way.

"Buying or selling your house is usually your biggest investment," said Severson.  "You need to have confidence and trust the person you are working with.  I enjoy helping people purchase their first home or sell their long-time family home.  It is always fun to try and connect the person to the right home."
Thanks for the support: Thanks to the support of business owners like Carole Severson the news at WashingtonCountyInsider.com remains free of charge. WashingtonCountyInsider.com provides first-run stories, 7 days a week from a trusted reporter who has lived in the community 32+ years. Please support the locally-owned businesses that support WashingtonCountyInsider.com.