Washington County, WI – Lifelong friendships have blossomed for Joy Bartell and Sharon Linstrom while working together at Cedar Communitys' Gift Shop at the Cedar Lake Campus.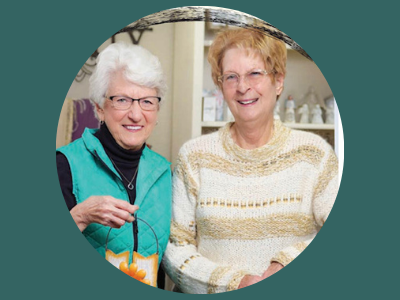 Sharon moved into a Cedar Community independent living home in 2012 and Joy followed in 2015. Both became volunteers for the organization shortly after settling into their new homes. Sharon was asked to help run the gift shop by volunteer coordinator, Bonnie Amerling, who knew she had spent many years in the retail sector.
Click HERE and subscribe to FREE local news at
Washington County Insider on YouTube
When Sharon first moved to Cedar Community, she also helped in the assisted living—baking, making crafts, attending campfires, and various other resident activities.
Joy and Sharon both enjoy perusing catalogs, ordering the latest treasures, unpacking, pricing, and displaying all the merchandise.
CLICK HERE to read more about Joy and Sharon in the spring edition of Cedar Community's Live More magazine.