October 22, 2020 – Town of Cedarburg, WI – A successful groundbreaking this week for a new build at Cedar Creek Motorsports in neighboring Ozaukee County.
The new construction will be just east of the existing location, 7518 WI-60.
Owner Jay Jepson said the new 45,000-square-foot building would provide much-needed space to showcase vehicles and offer a state-of-the-art experience for customers.
The Town of Cedarburg Plan Commission unanimously approved the project.
Jepson said he expects to open in mid-2021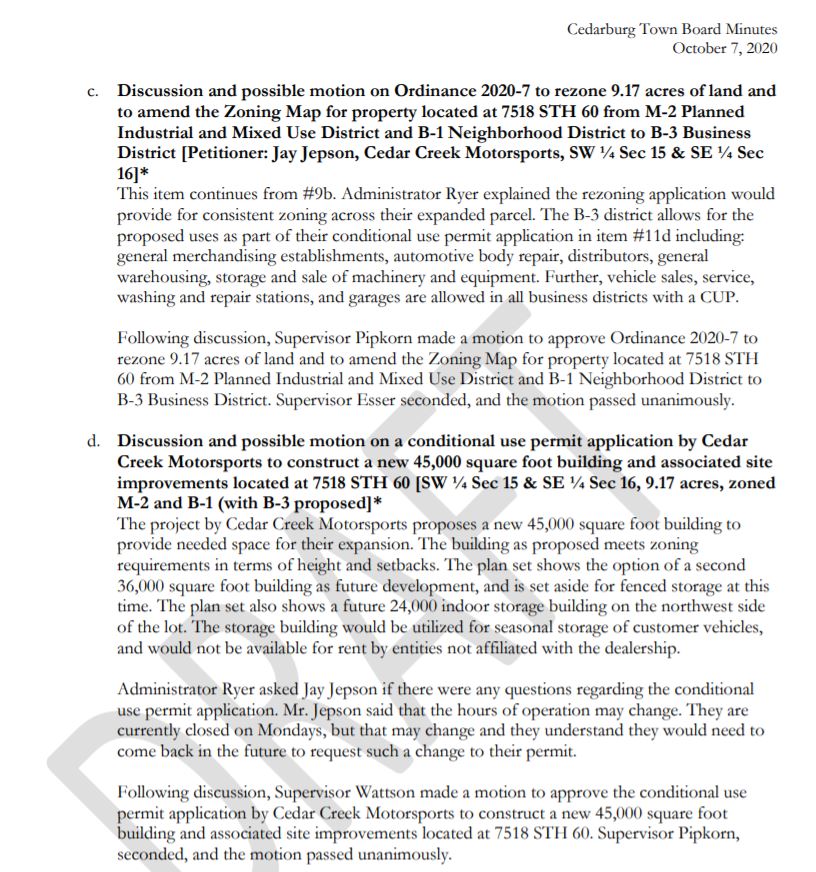 Powersports enthusiasts are aware that every manufacturer has expanded production to include larger vehicles, more selection within each segment and extensive accessories offerings for those vehicles.
The new facility will provide CEDAR CREEK MOTORSPORTS much-needed space to showcase these vehicles and offer a state-of-the-art experience for our customers.
Expansion also allows Cedar Creek Motorsports to grow the display-and-service area for  GIANT BICYCLE lines of Electric (eBike), Road and Mountain bikes, accessories and apparel.
The Service Department will be larger to offer 9 powersports service technicians the elbow room to maneuver vehicles for maintenance and repair, and install large accessories.
Since 2006, consumer demand for Utility Vehicles (UTV) has increased 95.3% and a generous upsizing of the Parts Department to show-off accessories, riding gear, outdoor apparel, wheel and tire packages, up to 72-inch snow plows, farm implements for these models is planned.
CEDAR CREEK MOTORSPORTS is SE Wisconsin's largest volume powersports dealer.