Check out Relax U in Downtown West Bend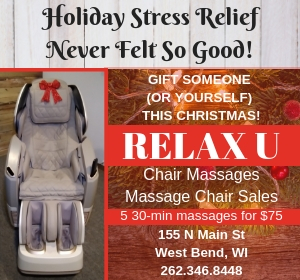 Dec. 3, 2018 – West Bend, WI – Have you heard about the new massage chair business in Downtown West Bend? Relax U recently opened at 155 N. Main Street.
The store, across from BOSS Realty LLC, offers a variety of incredible massages by simply sitting in a chair.
Click HERE to watch a video.
"We provide a unique, relaxing massage experience, in fully-automated massage chairs that cater to your every need," said owner Evan Mills.  "In addition to providing a relaxing experience, we also sell massage chairs so you can enjoy a perfect massage every day in the comfort of your home."
Appointments can be booked online, or walk in and make an appointment for a 30-minute massage. That is available for $15 if you buy a 10 pack.
One-hour massages are also available.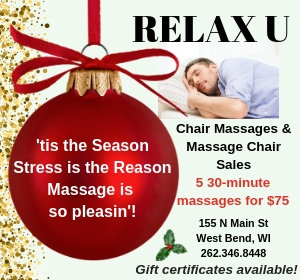 "The chairs will recline and put you in a zero-gravity position," said Mills. "The chairs are pre-programmed; there are eight settings and the chairs heat up."
Relax U opens daily from 10 a.m. – 6 p.m.  You must be 18 years old to participate.
Call to make an appointment at 262-346-8448
Gift certificates are also available – a perfect gift for the person who has everything. One size fits all.