December 1, 2022 – West Bend, WI – A hat tip to history and a nice recollection on this cold December 1 morning. As temps hover in the low 20s… that would never bother dedicated crossing guard Chucky Fellenz who helped kids cross safely at the busiest corner in Washington County and he always came to work dressed in shorts.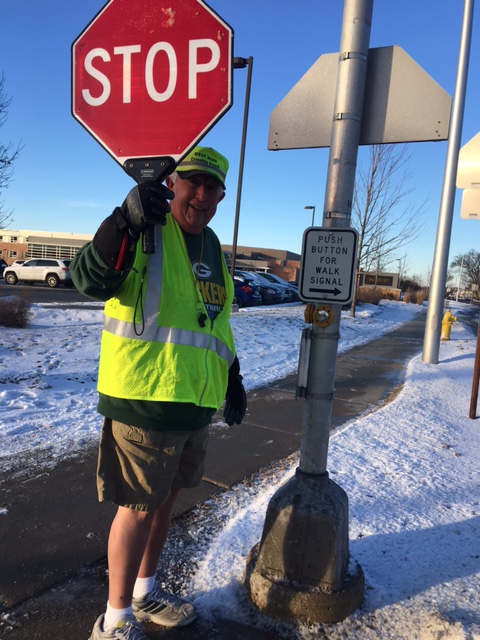 For years Fellenz has been a fixture on the corner of Decorah and Main Street in West Bend. He worked two shifts daily during the school year and crossed about 200 kids a day.
"Every day was the best," said Fellenz. "I loved my corner; there was no sitting in the car reading papers. I had hundreds of kids a day and they come really fast. I never had a kid get hit."
Aside from his dedication and concern for the safety of the children, Fellenz had a penchant for some unique attire. One would have thought the 79-year-old had been dreaming about wintering in Florida as he showed up to work year round almost always wearing shorts.
Even in the winter.
Below is a story from March 2016 when Washington County got socked with a late-season snowstorm and Chucky Fellenz dashed out of the house to go to work.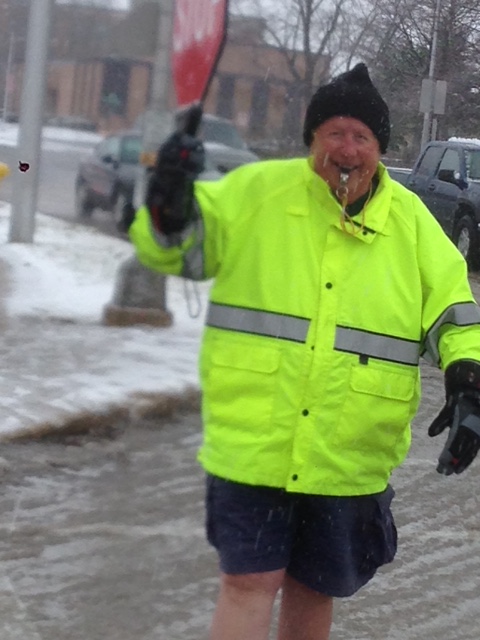 The robins are flitting around the late winter white saying "What are this?" The hearty purple crocus are pushing their faces through the heavy blanket of ice and Chucky Fellenz wife shakes her head as her little boy leaves the house in a fluorescent lime green jacket, hat and shorts.
"I put my pants away three weeks ago," said Fellenz with confidence. "I just had a lady roll down her window and yell at me. I hollered back 'I'm not cold.'"
Fellenz has been working the corner of Decorah and Main as a crossing guard in West Bend about a dozen years and he's not gonna let Mother Nature tell him what for.
On Wednesday afternoon school kids ducked their heads as they braced against the pelting rain. Traffic moved slowly as windshield wipers pushed away the heavy, damp snow and Fellenz knew enough to stay 2-feet back from the curb.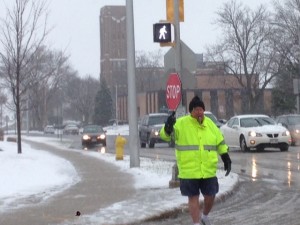 "These cars come along and they hit that puddle and the water carries up over in a good slosh," he said.
White chicken legs exposed to the elements, Fellenz gives a sharp blow to his whistle, lifts his stop sign and safely crosses students to the opposite side of Main Street.
He dances back up on the sidewalk, his white tennis shoes soaked. He's a poster boy for every mother's winter-wardrobe nightmare.
"My wife bought me a pair of heated gloves," he said. "I got them on low. Put your hand in here.
"My ears may get a little cold, but the rest of me is just fine."
Thank you, Chucky Fellenz, for all your years of service and keeping children safe in West Bend.
Chucky Fellenz died June 6, 2020.  He was 80.