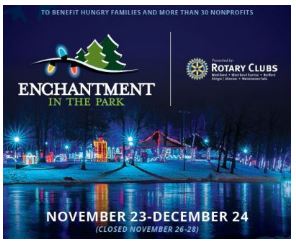 Nov. 2, 2018 – West Bend, WI –
Enchantment in the Park
at Regner Park is getting set to kick off its 2018 season. On Wednesday, Dec. 19 it will be 'vendor night' at Enchantment?
Organizers are looking for vendors who would like to set up a table in a heated building and sell their wares.
It is Wednesday, Dec. 19 from 6 p.m. to 9 p.m. You must bring your own table.
The night will be heavily advertised.