Washington Co., WI – Each fall, UWM at Washington County presents a lecture series that focuses on a different country. Faculty experts and professionals share their knowledge with lectures that dive into related topics.
This year there will be a series of five one-hour lectures exploring France.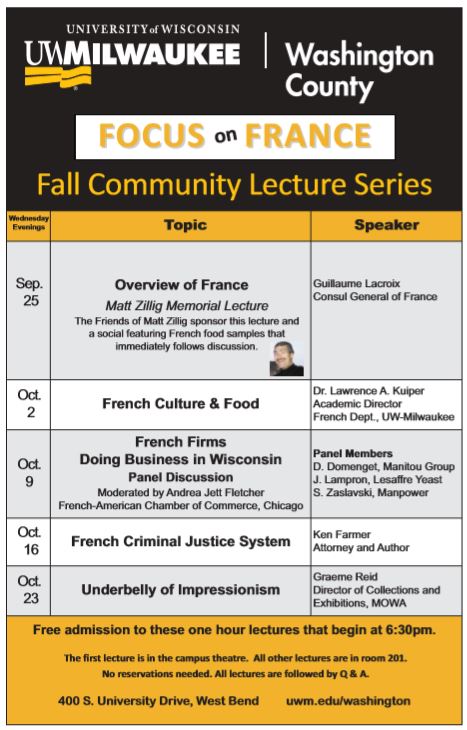 Admission is free, and no registration is required. A Q&A session follows each lecture. All presentations are at the UWM at Washington County campus and begin at 6:30 p.m. The first lecture takes place in the campus theater. The subsequent lectures are in Room 201.
Oct. 2: French Culture and Food
Speaker: Lawrence A. Kuiper, associate professor of French, UW-Milwaukee
Oct. 9: French Firms Doing Business in Wisconsin – Panel Discussion
Andrea Jett Fletcher, executive director, French-American Chamber of Commerce, Chicago (moderator)
Delphine Laporterie Domenget, director of human resources, Manitou Group, West Bend
Janice Lampron, executive assistant, Lesaffre Yeast Corp., Milwaukee
Severine Zaslavski, senior information technology executive, Manpower Group
Oct. 16: French Criminal Justice System
Speaker: Ken Farmer, attorney and author (Real Lawyers, Chez Betty)
Oct. 23: Underbelly of Impressionism
Speaker: Graeme Reid, director of collections & exhibitions, Museum of Wisconsin Art