West Bend, WI –The Museum of Wisconsin Art (MOWA) announces a new family-friendly program, Second Saturday, that turns the entire museum into a destination for art experiences every month. MOWA members can drop-in for art-making projects, live entertainment, and other art-inspired activities throughout the museum.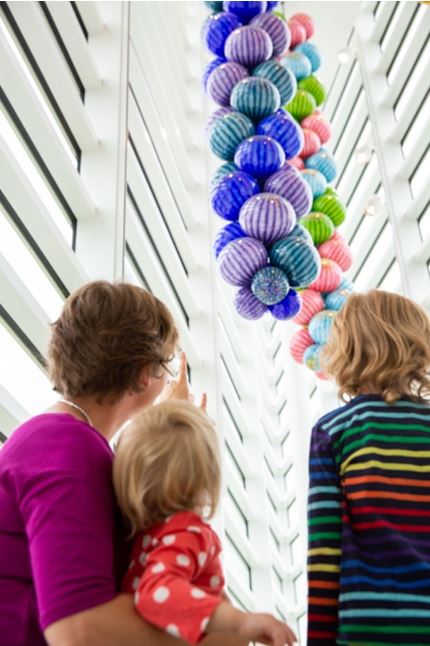 Second Saturday begins on Saturday, April 9, 10:00–2:00 and occurs every second Saturday of the month thereafter.
"After nearly a two-year hiatus from in-person family programming due to the pandemic, we are excited to launch this new monthly program," said Curator of Youth Education Programs Courtney Hinder. "Second Saturday includes a variety of activities for all ages throughout the entire museum. Each month will bring something different."
Second Saturday builds off the success of MOWA's popular weekly studio class, Studio Saturdays, which was adapted to virtual and take-home project formats to keep art making accessible throughout the pandemic. Second Saturday continues to offer drop-in art-making projects that teach new art techniques as part of its lineup.
The Museum of Wisconsin Art in West Bend is open Wednesday through Sunday, 9:30 a.m. – 4 p.m. Families can join with a Crew membership ($50) offering a full year of access to the museum for four adults and any number of children under eighteen. Individuals can join for as low as $15.
ABOUT THE MUSEUM OF WISCONSIN ART
A vital cultural center, educational institution, an expanding network of ideas, the Museum of Wisconsin Art (MOWA) collects and interprets American art through the lens of a single state. Informed by dynamic initiatives and collaborations, MOWA is an innovative forum for contemporary artists, socially relevant exhibitions, lectures by artists and industry experts, and engaging classes and activities for all ages.
MOWA has two permanent venues—the West Bend "Mothership" and MOWA | DTN in downtown Milwaukee's Saint Kate—The Arts Hotel—as well as two partnering community organizations that create access across the state. MOWA annually welcomes 200,000 visitors, making it a cultural destination for the art and artists of our time.