Fond memories of Easter dresses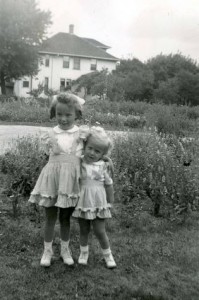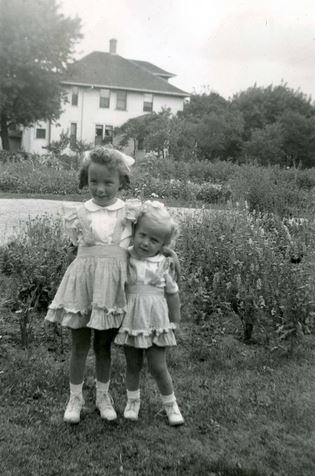 April 14, 2017 – Washington Co., WI – One of my favorite stories to write is memories of Easter finery. The frilly ensembles hearken to the day when people wore their Sunday best to give to the glory of God.
The history photo, courtesy Jeanne Goeden of Kewaskum, features a 1954 picture of Goeden's grandma Esther Eggert. "Grandma made our pinafores," said Goeden pictured above with her sister Sandra Berres Ohmann. The photo was taken in Kewaskum in 1946.
Goeden's story of homemade dresses sparked memories from others who also reflected on the extra effort families made to dress in bows and lace with a special outfit for Easter Sunday.
Carol Johnson Cler grew up on a farm in the mid-1950s in the Norwegian Valleys of Black River Falls. "My mother made all my dresses out of flour sacks we got at the A&P; the flour sacks were pretty in those days," said Cler.
"Sometimes, when I was lucky she'd buy material. My cousin, my best friend and I all had the same dresses because our mothers shared the pattern and they were all blue and white dotted swiss."
Accessorizing for Easter included costume jewelry borrowed from different aunts. Tights were not in the budget so Cler combined cotton socks with a pair of Buster Brown shoes. "I loved saddle shoes. We'd get one pair in the fall when we started school and they had to last all year," she said.
Dolores Koenig was a volunteer at the recent Holy Trinity Women's Social in Kewaskum. "I was in seventh grade and I got a new green, three-quarter length coat," Koenig said.
Wide-brim Easter hats were an annual fashion staple for Koenig as were white gloves. "My mom did a lot of shopping at Schuster's Department Store in Milwaukee," she said. "I remember one dress from high school was purple. It was 1948 and I really, really liked that dress."
Joan Albers has lived in Kewaskum 45 years. "Easter was always a time for new spring clothes; nice hats, cutesy purses and ruffles and lace."
Albers grew up in Port Washington in the 1950s when the city had two stores with clothes. "We shopped at the Smart Shop on Main Street. They didn't have 'chubette' size and I used to take chubby sizes because I have always been chubby," said Albers. "They would try and squeeze me into little sizes and therefore my feet were always hurting or dresses were too tight – which was not too flattering but we made it," she said.
Merriann Rose-Cudewicz, 72, of Kewaskum grew up in Milwaukee. "I was a citified country girl and a graduate of St. Agnes High School in 1961," she said.
Spoiled by an aunt from San Francisco, Rose-Cudewicz said little girls always got new clothes for Easter. Her mother worked for people like Pabst and Schlitz Uihleins. "She didn't have a lot of money but she knew how to dress," she said recalling shopping at stores like Chapman's and Boston Store in Milwaukee "My aunt sent me an organdy white dress with blue trim for Easter. Dresses made me feel elegant and I was only six years old and felt really fancy," she said.