Funeral today for Lillian A. Oelhafen (nee Moritz), 100, of Kohlsville. Lillian was well known for her special custom wedding cakes, peanut squares and famous schaume torte.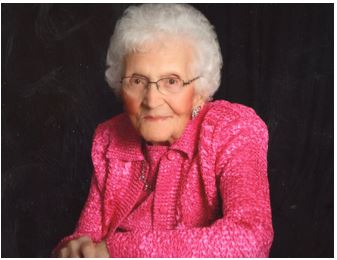 March 7, 2017 – Kohlsville, WI – The funeral is tonight at 6:30 p.m. for Lillian A. Oelhafen (nee Moritz), 100, of Kohlsville, who passed away Friday, March 3, 2017.
She was born on Sunday, December 24, 1916, to the late Arthur and Anna (nee Meyer) Moritz on the Moritz family farm in the Town of Wayne.
Lillian started her education at the Marx one-room school on Butternut Drive, which her Great Grandfather helped build years before.
When she was in the third grade, her parents bought the Moritz Sawmill business in Kohlsville from her Grandparents Otto and Anna (Sell) Moritz.  They moved into the mill house which formerly operated the Kohlsville Post Office, butcher shop, bakery and general store.  Her life-long love for fishing started as a young girl at the Kohlsville Pond.
When she graduated 8th grade, from the Hose School District #8, (Kohlsville School), she moved in with her maternal grandparents so she could attend West Bend High School.  During high school, she was selected to start an internship with B.C. Ziegler & Company, and continued to work there full time after graduation in 1935.
She married Harry Oelhafen in 1939.  Her wedding dress cost $18 (which was expensive at the time).  Harry was a school teacher, who taught all eight grades.  Harry and Lillian worked hard to save up enough money to buy a farm.  They raised dairy cows, chickens, and pigs.  Lillian also continued working at B.C. Ziegler until the birth of their daughter, Judy.
Along with the farm, Lillian continued to do accounting work for businesses in the area.  In 1962 she started working at the First National Bank of West Bend, WI where she worked until her retirement.
Lillian had many talents, some of which were painting, quilting, sewing, embroidery, gardening, canning, and cooking.   She was an active member of Homemakers for 69 years.  She first belonged to the Kohlsville Klever Kates Homemakers club.  They disbanded and she joined the Wayne Willing Weavers Homemakers Club where she was still active and attending meetings to the time of her death.
Lillian was an avid baker.  She was certified by the Wilton College of Cake Decorating.  She taught at Moraine Park Technical College in Fond du Lac, West Bend, Slinger and Allenton.  Lillian was also a 4-H Project Leader in cake decorating for many years.  She even was a judge at the Washington County Fair.
She was well known for her special custom wedding cakes, delicious baked treats, peanut squares and famous schaume torte.
Her volunteering touched on many things over the years, some of which included the West Bend Germanfest and playing Mrs. Claus for several local organizations.
She was a member of Zion Evangelical Lutheran Church, taught Sunday school for 24 years, and was an active member of the Ladies Aid until the time of her death.
Lillian lived her 100 years of life to the fullest.   She was never afraid to try new things or go to new places.  She loved interacting with people, sharing stories, and making time for your visit.
Anyone who knew Lillian would agree… she had a strong faith, a positive attitude, and a mind that was still "sharp as a tack" until the end.
Those Lillian leaves behind to cherish her memory include her daughter, Judy Etta; two grandchildren, Jill (Bob) Nieskes, Jon (Julie) Etta; three great grandchildren, Katherine, Kevin and Rachel Etta; brother in law, Lloyd Luecke; nieces and nephews, Lloyd Jr (Chris) Luecke, Ann (Gary) Schneider, Thomas Luecke,  Chris Liermann, Bob Selsing, Earl Oelhafen, Betty Schmidt, Thomas (Darlene) Oelhafen, Misty Oelhafen, Julia (Robert) Averbeck, Rev.Walter (Gretchen) Oelhafen, Lois (Bruce) Ehlke, Kathy (Lloyd)Ollila, Beverly Oelhafen, Carol Oelhafen,  Cindy (John) Shaske, Betty Oelhafen, Karen (Ronald) Johann, Russell (Janice) Oelhafen, Jerry (Cheryl) Knickel, Sharon (Tom) Meierbachtol, Patricia Mayer O'Neill;  other special great nieces, great nephews, relatives and friends, who would take several pages to list (You know who you are!).
In addition to her parents, she is preceded in death by parents in law John (Bertha Rate) Oelhafen,  her loving husband Harry of 51 years ; son in law Ethan Etta; two siblings, Valerie Luecke and Earl (Betty)Moritz;  siblings in law, Elmer Oelhafen, Melvin (Evelyn) Oelhafen, Harvey (Helen) Oelhafen, Rev. Walter (Gertrude) Oelhafen, Ellen (Elmer) Wentorf, John A.(Therese) Oelhafen, Lorenz Oelhafen, Jacob (Doris)Oelhafen, Mary Smith, Claire (Jerry Sr) Knickel, William (Glenice) Oelhafen;  nieces and nephews, Michael Luecke, Jerry Liermann, Carol Selsing, John Schmidt, Kenny Oelhafen, Carla Wentorf, John N. Oelhafen, James Oelhafen, Richard Oelhafen, Mark Knickel.
A funeral service in remembrance if Lillian will be held on Tuesday, March 7, 2017 at 6:30 p.m. at Zion Ev. Lutheran Church, 6438 Hwy D, Allenton, with Lillian's dear friend, Pastor Steven Bode, officiating.
The family will greet relatives and friends on Tuesday at the church from 2:30 p.m. until the time of service.
Memorials can be made to the Zion Evangelical Lutheran Church.
The Myrhum Patten Miller & Kietzer Funeral Homes have been entrusted with Lillian's arrangements.