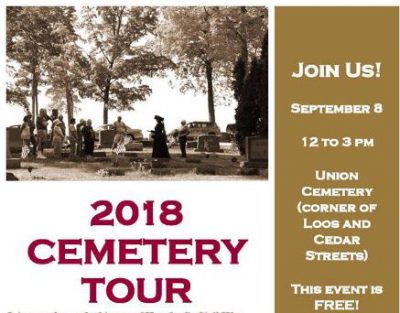 Sept. 3, 2108 – Hartford, WI – The Hartford Historical Society has announced its Sixth Annual Cemetery Tour scheduled for Saturday, Sept. 8, at the Hartford Union Cemetery, Hartford, WI.
This free walking tour takes visitors through the oldest cemetery within the city of Hartford, featuring stories of Hartford's lost, forgotten and featured Civil War Veterans. Hartford Union Cemetery has 99 Civil War Veterans buried on premise along with two veterans from the War of 1812.
Through a special promotion, 60 of the 99 Civil War Veterans have been adopted for this year's event, along with "Ten Little Angels" in a special burial area of Union Cemetery.
"September is the perfect time to take a tour through the Hartford Union Cemetery," said Jean Knoll, vice-president of the HHS. 'With the knowledge of the members within the Historical Society and local History Room, we've teamed up to create a unique tour rich with history and interesting facts about former Hartford residents. Conducting this tour during the hours of 12 p.m. until 3 p.m. in Wisconsin's early autumn air makes it a fantastic and memorable afternoon for just about anyone."
Thrivent Financials Michelle Oldham of River Edge Associates of West Bend is a sponsor in partnership with HHS for this year's Cemetery Tour.
Oldham has volunteered in several aspects from the cemetery clean up to the actual cleaning of headstones. Oldham will also be sponsoring a free give-away for one headstone cleaning, courtesy of the "Cemeterians."
This free give-away of a headstone cleaning is open to all visitors attending the day of the event, and limited to one entry per person.
Cemeterians will also be giving a live demonstration on the cleaning of headstones with the use of certified, environmentally safe products.
Cemeterians is a local "community service" providing the cleaning and restoration of headstones within the Washington County area.
In addition to the Hartford Cemetery Tour, members of the Hartford Historical Society will be dressed in period clothing along with several participants in Civil War attire.
For more information about Hartford Historical Society's 2018, Cemetery tour, visit  @hartfordhistoricalsocietywi and/or follow on Instagram @hartfordhistoricalsocietywi.