Washington Co., WI –  Dave Bohn was born just a few months after the stock market crash; he grew up during the Great Depression in the 1930s on a farm just south of West Bend on Highway P.  In addition to having dairy cows and growing grain, his parents raised chickens and sold eggs.  Here's a story Dave wrote about shopping at the local grocery store during those times.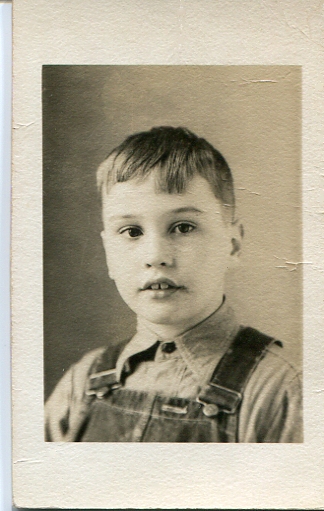 My mom would sell eggs to a store in West Bend.  Peters General Store was one that sold groceries and dry goods (clothes and cloth material) and a little of everything.  It was located on the SW corner of Hickory and Main Street.
The Peters store was about 4,000 square feet on the main level.   Mom would drive the eggs to them to sell and they would pay for the eggs with tokens, coins like chips that stores had.  The tokens mom got could only be used for merchandise at the Peters store, so it was like a trade.  I guess this was a common practice at the time with stores.
Anything you bought at Peters that had to be wrapped like clothes or dry goods, was wrapped in brown kraft wrapping paper and bound together with string, as there was no masking or Scotch tape then.
There were big rolls of string all around the store, where the clerks would wrap your purchase before you left.  In some bigger stores, such as Peters, you would pay the clerk for your purchase, and the money was placed in a small cup-like trolley that ran on a wire up to the second floor, as there was no money on the main level.
The cup would take the money and the sales slip to the second-floor cashier, who would make change and give a receipt, and send it back down to the clerk on the main level.  To send this trolley on its way, the clerk on the main level would pull a line.  I think this would wind a spring, and when the spring unwound, it would send the cup on its way.
As a kid, this did fascinate me – all those cups flying through the air.  This system was used in bigger stores only.  Mom-and-pop stores didn't have this.
Mom did most of her shopping at Peters because she had credit there from selling eggs.  Peters carried brooms, dustpans, and various things for housekeeping, and some groceries that were dry goods, such as flour, sugar, cereal, etc.  Mom would go to sell the eggs about once a week and do her shopping.
There was a little store named Hess Grocery Store where we would stop on Sunday after church.  It was on the south side of town on the southwest corner of Oak and Main (Hess sold it to Nehrbass Butcher Shop and it is currently a craft store).  It was a very small store with dry goods only.  So mom just probably would go in and get whatever she needed quickly.  We stayed in the car with dad when she did this.
We mostly ate meat from our farm.  We butchered pigs so we had plenty of pork and of course, we had chicken.  But beef we would have to buy, so we rarely had that.  We did have sausage fairly often.  I think some of the sausage was made during butchering day each winter.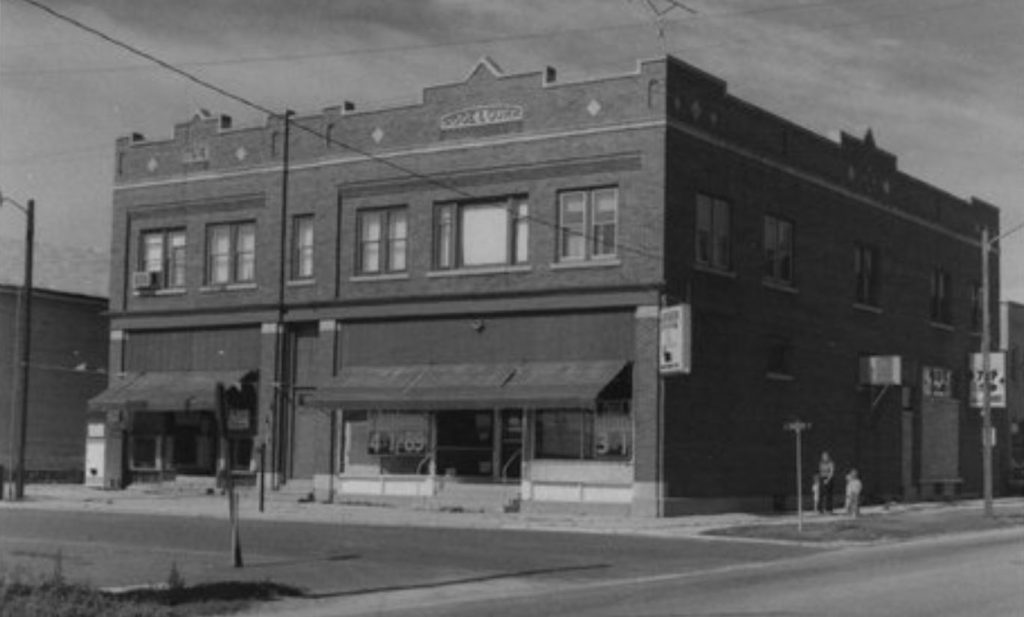 We might have gotten some sausage at Hess Grocery store, but we probably got it at Hoge and Gumms in Jackson.  Hoge and Gumms was also a General Store.  It was located on Highway 60, near the railroad tracks.  It was built in 1916 and the building still stands today.
Click HERE for a historical note on the structure of the Hoge & Gumm building
Hoge and Gumms sold everyday work clothing items, groceries, and some fabric.  That was the only store in Jackson, so they had a little bit of everything, other than fresh food items.   They sold a lot of candy because I remember a big display of candy and mom used to always buy Christmas candy there.  That is where we oftentimes, saw Santa Claus.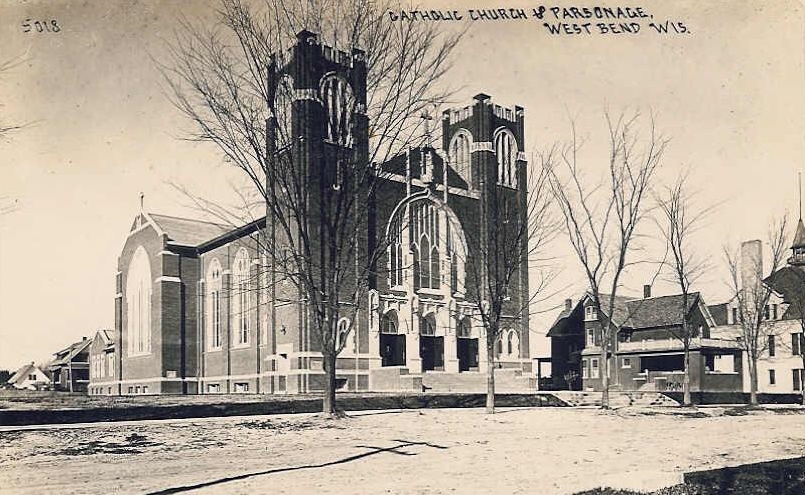 We went to Jackson quite often because that is where we sold our corn to the canning company, our milk went there for a period of time, and we went to the feed mill there as well.  So my parents did shop in Jackson as well as West Bend.  If it wouldn't have been for church at Holy Angels, we probably always would've gone to Jackson, because it was more of a farming town and also dad's family was located in the Cedar Creek area, which was close to Jackson.
Things are different now in West Bend with lots of large stores and of course, now people order things online.  While we didn't have everything available to us all the time, we always did have enough to get by.
Wisconsin Architecture and History Inventory Citation: Wisconsin Historical Society, Wisconsin Architecture and History Inventory, Hoge & Gumm building, Village of Jackson, Washington County, WI, Reference No: 14754