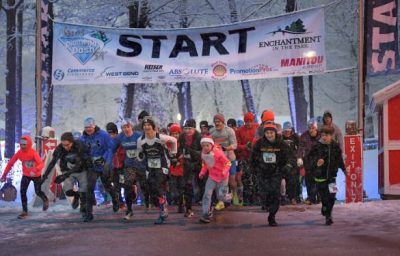 West Bend, WI – The 3rd Annual Husar's Diamond Dash Family 5K Run & Walk is Sunday, Dec. 3.
The course features a 1-mile loop running 3 times through Enchantment in the Park's breathtaking light display.
Overall 1st place male and female will win a Husar watch valued at $500 at this chipped-timed race.
All proceeds are given to Enchantment in the Park. The event also benefits the Full Shelf Food Pantry and the Washington County Senior Center.
Click HERE to register.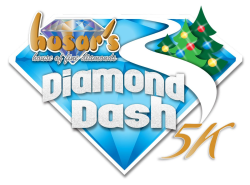 Join us for this family fun run at Regner Park in West Bend, WI.
The race begins at 4:30 p.m. (runners – chip timed) and goes until 6 p.m. It is the only time people are allowed to walk/run through the entire display!
The start and finish are both at the Silver Lining stage, allowing friends and family a nice spot to cheer on runners. Water stations will be offered at the start/finish line, 1 and 2-mile marks.
Your registration includes race entrance, bib and swag bag. The swag bag is put together by all of the sponsors for the event, and includes a commemorative giveaway item (a very sought after item previous races), promotional items and coupons.
The top male and female finisher will win a watch (valued at $500) for their performance, courtesy of Husars House of Fine Diamonds. Awards will follow the Husar's Diamond Dash. Awards and will be given to the top 3 finishers by age group.
Before and after the race, stay warm in Santa's Workshop where the Washington County Senior Center will be selling food and beverages, and have your family photo taken with Santa!
 
Enchantment in the Park's mission is to create a holiday adventure for one and all, where wonder, excitement and enchantment are experienced through a variety of light displays, music and performance art.
All proceeds from this event will go to Enchantment in the Park. We will also be collecting food donations for the Full Shelf Food Pantry on the day of the event. Please feel free to bring along your contributions for a great local cause!
Please patronize and thank our local businesses for their Diamond Dash sponsorship! Sponsors of the Diamond Dash include Husar's House of Fine Diamonds,PromotionPros.com and more!
Race Day Agenda:
Sunday, December 3, 2017—Regner Park, West Bend
3:00pm Packet Pick-Up and On-Site Registration (inside of the main pavilion)
4:30pm Race Start – Runners Chip-timed
5:15pm Awards Ceremony
6:00pm Park Opens to the general public
FEES:
Run/Walk Registration is $25 PER PERSON
AGES 5 & UNDER ARE FREE!!! (Participants that are 5 years old and under will not receive a swag bag or commemorative beanie.)
Registration on the day of the event (Dec 3, 2017) will be $30 PER PERSON
Strollers are welcome!
Entries:
Entrants will receive a swag bag and a cool, commemorative beanie. Hats are guaranteed for entries submitted no later than November 24, 2017. Any entries received after November 24, will be on first come first serve basis come race day while supplies last.
Click HERE to register.