It's like Dory trying to get home…. only it's a parakeet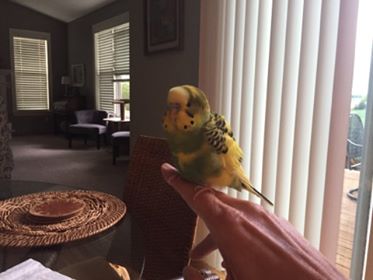 August 6, 2017 – West Bend, WI – This little guy was found on Cloverview Street in the Prairie Meadow subdivision in West Bend at about 6:15 p.m. Sunday, August 6.
Totally a sweetheart.  West Bend Police took him to the Humane Society. He is banded and very tame.
Hopefully the owners will see this or someone can tell them and claim him! 
On a side note: It was in July 2008 when I wrote about another lost bird in my column Around the Bend. The title was:  How do you hug a lost parrot?
It was an eventful week for the Holtz family of West Bend as their pet parrot tested his flying skills Sunday.
"We've had Mr. Peepers the last six years," said owner Barb Holtz.
The green-and-gray-breasted Quaker parrot gives kisses and has an extensive vocabulary, including "whatcha doin'?," "get outta here," "I love you," and a wolf whistle.
The Holtzs were sitting outside their home on Decorah Road when the bird took flight.
"I had Mr. Peepers on my leg and my husband came out of the house, spooked him and he flew," Holtz said.
Although dark, the Holtzs located the bird 70 feet up a tree in the backyard.
"He was tough to see because he's so green, like the tree," said Holtz.
However, she knew the bird was close because she could hear him breathing.
Night passed and, in the morning, Holtz said Mr. Peepers was still there, up in the tree.
"He said, 'I love you' – because he talks," said Holtz.
The Holtzs called the Fire Department, which doesn't handle such matters. They moved on to Plan B.
She Googled "escaped birds" on the Internet, looking for a solution.
"We started throwing crab apples at him to scare him," said Holtz.
The apples were not effective.
"We thought he'd come down because he was tired, instead he soared over the big tree in the backyard and we lost sight of him," said Holtz, who added that she was surprised because Mr. Peepers is not normally a frequent flier.
"I don't know what to feel," groaned Holtz, who set the bird's cage in the driveway and played his voice off a recording on her cell phone.
Around 3 o'clock Monday afternoon Holtz, who had continued the search, heard her bird again.
"He was in that same tree in the backyard, I could see his little feet," she said.
The family placed calls to tree service companies, to no avail.
Then, $158 later, after Tim Holtz rented a lift, Barb climbed in the bucket and brought her baby home.
"I wrapped him underneath my hoodie, zipped it closed and held him underneath," said Holtz.
In hindsight, Holtz said she learned her lesson about taking the bird outside. She said the most memorable comment came from one of the four children in their backyard who witnessed the rescue.
"The kids ranged in age from 1 to 6 years old, and it was their yard where we found Mr. Peepers," Holtz said. "They all thought this was the coolest thing and then when we came with the bucket truck, one of the little boys piped up and said, "This is the weirdest day I ever had."
Holtz agreed; hers, too.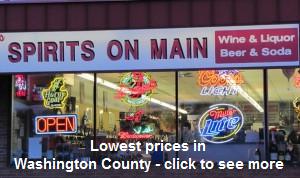 About Author
Judy Steffes
First-run stories from a trusted reporter who has lived in West Bend/ Washington County for over 33 years. Business/faith/education/community/history/arts.