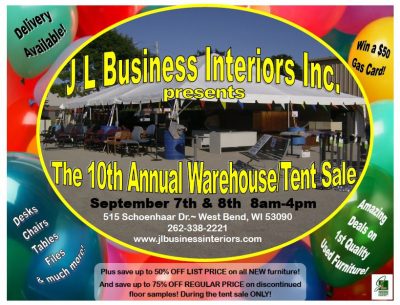 West Bend, WI – JL Business Interiors Inc.   in West Bend is preparing for its 10th annual Warehouse/Tent Sale.
There will be amazing deals on top quality used furniture including desks, chairs, tables and more. Stop in for a chance to win a $50 gas card.
J L Business Interiors, Inc. is a full-service office systems and office furniture provider with options including new, pre-owned, and refurbished office furniture.
Located at 515 Schoenhaar Drive in West Bend, JL Business Interiors Inc. has an 8,000-square-foot showroom so customers can see and feel the different options available.
In business since 1994 owners Jeff and Karen Lambie are strong community supporters giving to organizations such as the Kettle Moraine YMCA, Interfaith Caregivers and Enchantment in the Park.
JL Business Interiors Inc. is a supporter of WashingtonCountyInsider.com. Thanks to JL Business Interiors Inc. neighbors can enjoy the publication for free 7 days a week.
WashingtonCountyInsider.com brings you timely local news, first-run stories, with no subscription fees or passwords.
Click HERE to find out more about JL Business Interiors Inc. in West Bend.