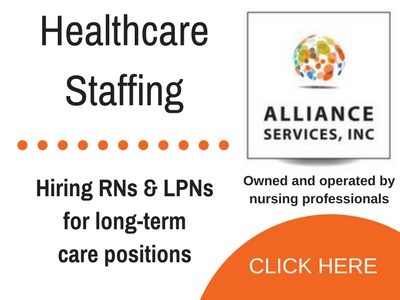 West Bend, WI – Alliance Services, Inc. is a healthcare staffing agency that is nurse owned and operated and was founded in 2000.
Alliance Services, Inc. specializes in finding nursing jobs for various healthcare facilities.
Alliance Services, Inc., offers all employees flexibility, a variety of work assignments, top wages, and a dedicated team of employees that will look out for your best interests.
Alliance Services, Inc. is looking for LPNs to work at the Milwaukee County Jail.
Click HERE to apply online.
RESPONSIBILITIES:
Assists health care providers, registered nurses and allied health professionals with examinations, treatments, special tests and routine procedures.
Obtains patient health history, laboratory specimens, vital signs and administers TB skin tests.
Reviews patient chart; records and reports observed symptoms, reactions, treatments, and changes in patient's conditions.
Schedules and coordinates paperwork for patient transfers to medical facilities or outside health care providers; administers medications; implement health care practitioners orders and documents all patient contacts using the POMR format.
Practices safety, environmental and infection control methods.
Performs additional duties as assigned.
DESCRIPTION:
12 hour days and 12 hour night shifts available
Weekends required
Start ASAP
Full time contracts, and per diem (part time) available (Weekends ARE required)
QUALIFICATIONS:
Graduate of an accredited nursing school
Current and valid WI LPN License; Current and Valid CPR Certificate
Must conform to security standards of correctional facility
Must possess 1 year of recent LPN experience
Previous experience working in a correctional facility preferred
Must have a clear background
COMPENSATION / BENEFITS:
$28.50 hour
Referral Bonuses
Health/ life Insurance
Direct Deposit
Visa Card bonuses for working critical shifts
If you are interested please respond with your resume, or visit online www.asi-wi.com for more information.
Job Type: Full-time
Salary: $28.50 /hour