West Bend, WI – The Bend Theater, 125 N. Main Street, welcomes The Voice finalist Kat Perkins for two performances on its historic stage.
Under the guidance of coach Adam Levine, Perkins sailed into the finals during the 2014 season of The Voice.
Perkins and guitarist Dave Burkart will perform at the nonprofit theater's inaugural Bend Ball on Friday, November 19 with all proceeds going toward The Bend's operating budget as well as toward Perkins' own charitable foundation, which supports music education initiatives.
On Saturday, November 20 the full Kat Perkins Band hits the stage with free admission for all students.
Tickets to both nights are on sale now at thebendwi.org
Her edgy voice and passion for music have not only led to commercial success but she's a rock star that loves to give back to the community.
Perkins averages two military tours per year to perform for the troops overseas, sells out venues across America with a variety of themed performances and tours, and goes to schools to speak to students about following their dreams, living a "fearless life," and making a positive impact on the world.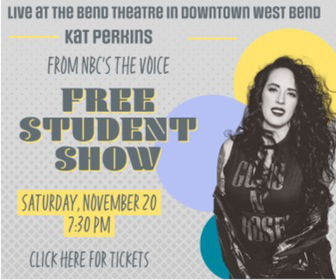 The success of these presentations led Perkins to begin a nonprofit foundation, The Rising Star Foundation, providing scholarships and opportunities for aspiring musicians while also giving back to the local community.
A part of how The Bend is giving back is by offering FREE tickets to students to Kat's concert on Saturday, November 20. Come experience The Bend, live music and all that music can do for our community.
The Bend is proud to showcase original music in a unique setting. Operated by the nonprofit organization Historic West Bend Theater Inc., The Bend, is a 1929 vaudeville theater building completely restored in early 2020. It is featured on both the national and state registers of historic places.
For more information, or to purchase tickets visit thebendwi.org or via email [email protected]
Learn more about Kat's music and foundation at katperkinsmusic.com