Kohlsville woman, 99, remembers the Wash. Co. Fair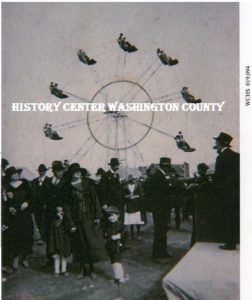 Lillian Moritz Oelhafen, 99, is a local historian from Kohlsville. A small woman with an easy smile, Oelhafen is sharp and recently recalled her early years at the Washington County Fair.
"Oh I remember the fair," said Oelhafen. "I remember when it was held on a 25-acre plot on the northeastern part of the city of West Bend, known as Fair Park."
Oelhafen attended the fair as a child in the 1920s. She remembers growing up in Kohlsville how she would go to the fair with her family.
"It was very dusty," said Oelhafen. "There was always a dark man with a good suit on and he was standing where you entered the fair and he had a whisk broom and he would offer to brush the men's suits because it was so dusty."
Oelhafen said it was normal for families to go to the fair together. "They had rides like a Ferris wheel and merry go round," she said. "And kids would show their animals."
Oelhafen explained how she was 10 miles from West Bend and if kids showed their animals they would walk them to the fair. "They didn't get trucked, they walked," she said. "We got a ride – in a Ford car."
For the women there were handicraft exhibits like crochet. "I participated in the baking and canning and I made strawberry and raspberry jelly," she said. "Winners would get blue ribbons."
Some of the entertainment included country singers at the grandstand but it was the horse races that were really popular. "They were very exciting and we had to pay separate admission to see those races," she said.
Oelhafen doesn't recall carnival games. She said there was a ball toss but the more popular event was a baseball game involving the West Bend Lithia team.  "My father Art Moritz was one of the big players," said Oelhafen. "He was the catcher and the games always drew a big crowd."
Oelhafen recalled the fair only ran two or three days. She said her favorite thing was "the recipes."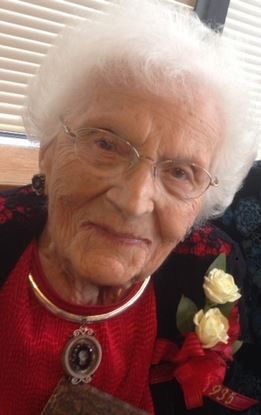 "They had a section where women brought their favorite recipes for cooking and baking and you always could get a copy and I really enjoyed that," she said. "My mother Anna would make the best homemade bread, and kuchen,"
"I'd pick up recipes like a date cake, something that was different," she said.
Chocolate cake and chicken noodle soup were some of Oelhafen's specialties. "Yes… those were made with homemade noodles," she said. "And I killed the chicken all by myself."
"The chocolate cake was an old family recipe. You had hot water and you made your own chocolate with coco," she said.
Fair food hasn't changed much. Oelhafen said they had cotton candy but Orange Crush, the soda – was her "favorite."
The 157th annual Washington County Fair runs through July 31.
Photo courtesy History Center Washington County.