Letter to the Editor | Please stop WiDOT and Washington Co. from spending $5M on ROAD TO NOWHERE | By Anne Gehring
Feb. 10, 2018 – Washington Co., WI – This past Wednesday evening, Feb. 7, 2018, I attended an informational meeting at the Addison Town Hall in Washington County held by the Washington County Road Commissioner. At that meeting I learned that the state together with the county plans to spend $5 million to build a brand new road in the Township of Addison that nobody in the community wants and even the county admits will not get used much.
A map clearly showing the new road the Wisconsin DOT will be building can be found on the Washington County website by clicking HERE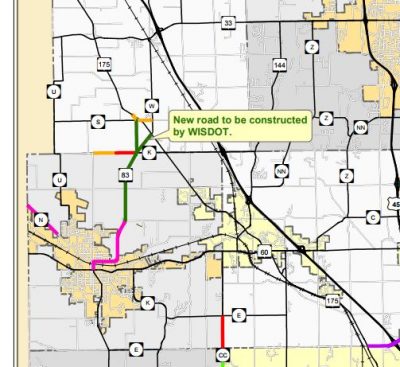 If you look carefully at this map you will clearly see that the proposed new road will be constructed between two existing roads a half mile or less from where this road will be. All three of these roads connect with the exact same two roads, Hwy 83 and Hwy 175.
In a time when the state is scrounging to find dollars to fund repairs for its existing aging roads and bridges, even seriously considering installing tolls on some of our major roadways, the WiDOT is planning on wasting millions of taxpayer dollars on building a very expensive new road in a tiny township, in the middle of NOWHERE, that the local community does not want, that the county expects very few people to use and doesn't really go anywhere!
When we in the Addison community objected to this wasteful use of Wisconsin taxpayers' money, the county insisted that the new road is necessary for safety.
But when the citizens asked the county to document how building yet a THIRD road between two already existing roads within a half mile of the proposed road improves safety and doesn't just spread out the problem to more intersections, they told us not to worry about it because the road won't be used much.
Well if the road is necessary to improve safety but it isn't likely to be used much then how can it possibly be necessary? This is a circular logic shell game intended to confuse Wisconsin taxpayers and hide the fact that this new road is entirely unnecessary.
Rather than improve the safety at the intersections of our EXISTING roads, the WiDOT and Washington County's absurd safety solution is to build yet a THIRD road instead! In the process, the state is going to destroy many acres of valuable farmlands and unnecessarily bisect and ruin a number of large farm fields.
Our farmers are having it hard enough trying to make a go of farming, now they have to fight the WiDOT and the county from paving over their fields. This is an INSANE waste of taxpayer's money and it needs to be stopped. We absolutely do not need THREE roads within a one mile stretch that all connect the very same road!
The estimated $5M cost to build a road that local taxpayers did not ask for and do not want can and should be used to repair and restore Wisconsin's EXISTING transportation infrastructure to benefit motorists and taxpayers in the entire state of Wisconsin.
Thank you for your consideration of this very serious matter
Anne Gehring
For further information please contact me at:
262-224-0712
4830 State Road 83
Hartford, WI 53027
Click HERE to watch a broadcast of the informational meeting Feb. 7
Disclaimer: Opinions and letters published in http://www.washingtoncountyinsider.com are not necessarily the views of the Editor, or Publisher. The http://www.washingtoncountyinsider.com reserves the right to edit or omit copy, in accordance with newspaper policies. Letters to the Editor must be attributed with a name, address and contact phone number – names and town of origin will be printed, or may be withheld at the Editor's discretion. During the course of any election campaign, letters to the editor dealing with election issues or similar material must contain the author's name and street address (not PO Box) for publication.