Letter to the Editor | Preserving the history of Schleisingerville | By Wendy R. Olsen
Dec. 20, 2018 – Slinger, WI – An open letter to my fellow "Slinger-ites,"
We will celebrate 150 years of Schleisingerville starting in one week and we have the chance to show our history to the world.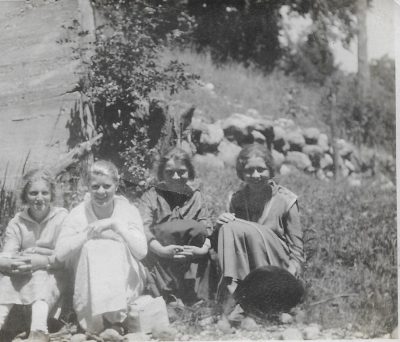 My grandmother Margery Olsen (Rosenheimer second from left)
Did you know 90 percent of communities in Wisconsin with a population of 1,000 or more have some form of museum or Historical Society? Bayfield, which has a population 460, has a museum.
We have a museum established – the Slinger Historical Museum Inc., a 501c3 non-profit entity.
We are officially state-affiliated with the Wisconsin Historical Society; Slinger High School is helping to document and curate our history; we have the support of the village and Washington County to establish a museum; we have displays highlighting the founders and industrial pioneers of our community and "dollars to donuts," you are related to one of these ingenious and brave women and men.
What we don't have is a place.
I have tried for over a year to find our physical address to no avail.  This initiative is a labor of love, not a profit-making venture.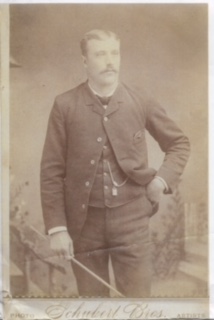 John Rosenheimer who built the 1890 house I live in now which was then bought by August Storck- -109 Storck st.
The Slinger Historical Museum is near and dear to my heart, I admit it.  I am an eighth generation Rosenheimer and live in a "Rosey" (then Storck) house built in 1890.
But this is not about my family; this is about your heritage.
I am not asking for money.  I am asking you, Slinger community members, to put your mind to task to find a home for our museum.  The rest is all in place; grants, docents/tour guides, excitement and an interest in volunteering, both young and old.
Please help.  A small building that you are not using, a spot of property that we could move an already identified Historical Landmark building from the 1880's that could "house history," an abode for our artifacts. If you have something, or know of something, ring me at 262-707-2811 and let's begin the conversation.
Let's ignite a love of history in our community of 5,400.
Sincerely,
Wendy R. Olsen, Founder, the Slinger Historical Museum
262-707-2811