Letter to the Editor: Randy Marquardt for WB School Board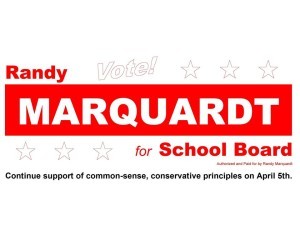 I am very grateful to have had the privilege of leading the Board for the past five years. I believe our accomplishments have positioned the District to be successful going forward and I believe our taxpayers are getting a good return on their investment.

We have continued to be innovative, opening Pathways Charter School with a new learning model; opened an on-site health clinic to benefit our employees and control costs; and continued to responsibly address our facility needs.  We advocated for and got legislation passed at the state level to benefit our kids and the taxpayers.
We developed and enacted an employee compensation model that other districts have sought to copy, and restructured retirement benefits that cut our previously-unfunded future liabilities by over 60%.
I have strongly supported our data-driven improvement processes and led the Board and community through some contentious, yet respectful debates over the High School structure and the K-4 expansion. I am also proud of our
efforts to engage community members as volunteers and local businesses as partners in education.


We need to continue to ensure that every student is prepared for their future.  We need to keep our expectations high enough, set our standards appropriately and make sure our students are learning and achieving to those levels.  We also need to listen to employers about the skills they need and where future jobs will be.
Then, we need to provide more career exploration, develop multiple career pathways and expand job shadowing, internships and dual enrollment options to fill that demand.

I am asking for your support to continue to apply my common-sense, conservative principles to all issues that come before the Board.  It has been my pleasure to serve this community, and I humbly again ask for your vote on April 5.

Randy Marquardt, candidate for re-election to West Bend School Board