Letter to the Editor: Thank you for making Shop with a Cop a success!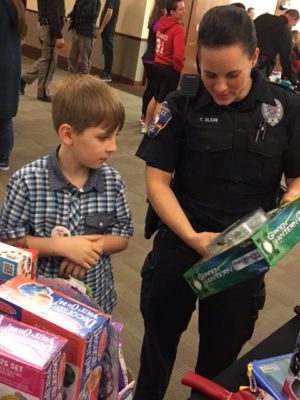 Dec. 15, 2016 – West Bend, WI – Shop with a Cop has been a celebrated event in West Bend for a number of years.
A huge thank you to the City Police Forces, Washington County Sheriffs, spouses, local businesses and all others who participated in the event. The Fraternal Order of Police took control of the event this year and managed the project from start to finish, the organizational skills were fantastic and the event was spectacular.
Forty-two children were paired up with an officer, had dinner, played games, made crafts and shopped for their families.  The officers involved took special interest in each child and they had as much if not more fun than the kids.
Volunteers wrapped presents while the kids played bingo for prizes and other games and activities. We witnessed smiling faces the entire evening. The children shared a night to remember.
Our thank you doesn't seem like enough but it goes far. We shared in the experience as helpers, we witnessed parents pick up their children and be told by officers that they had respectful, friendly, fun children that were a joy to spend time with.
The night brought happiness to many and the true meaning of Christmas to all involved. We are proud to be a part of this awesome event and we hope it goes on for years to come.
THANK you to all involved, it was a great night, and we hope to help again.
Teri Otis    Jenny Sheehy   Wendy Heather