Letter to the Editor | Thank you to volunteers for a very successful Pioneer Kids Day! | By Susan Thompson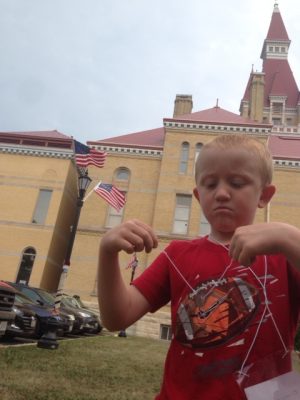 August 12, 2017 – West Bend, WI – The Washington County Historical Society sincerely thanks the following volunteers and organizations for making Pioneer Kids Day "Homesteading with Science" possible. The annual event welcomed 76 children to the Old Courthouse Museum in West Bend on Thursday, August 10, 2017.
Volunteers: Annmarie Costa, Kenneth Costa, Chris Czerniak, Jeanne Forester, Patricia Hawig, Annamarie Habetsetzer, Veronica Habetsetzer, Greg Holmes, Wendy Hess, Liz Ilnicki, Helen Kiefer, Zach Kiefer, Susan Kist, Lee Krueger, Luke Krueger, Mary Krueger, Wendy Leece, Donna May, Nancy Mehring, Marilyn Merten, Katie Mulvihill, Cole Rummel, Courtney Rummel, Summer Schneiss, Mary Starr, Shirley Walters.
Organizations: Farmington Historical Society, Stonefield Historic Site, Jackson Historical Society, Milwaukee Public Museum, Old World Wisconsin, West Bend Noon Kiwanis.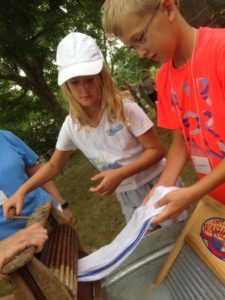 Students participated in activities like grinding corn, using a washboard to do laundry, rug beating, milking a cow  – – well, a pretend cow, and creating a game out of buttons and thread. Volunteers gave students a history lesson along with a chance to try the activity themselves.
Behind the scenes: Students got a little nervous at the clothes washing station as the volunteer docent gave a pretty graphic warning about how it was imperative to keep their hands from getting caught in the wringer washer.  Didn't we all hear some of those stories while growing up??
Another warning was passed along at the button game as girls with long hair were warned to not get their locks tangled in the string.