Letter to the Editor | Thanks for making Wheels on Main a huge success | By Anna Jensen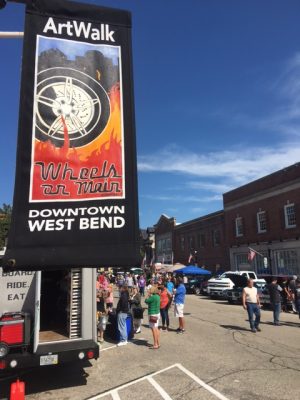 Sept. 11, 2017 – West Bend, WI – The
Downtown West Bend Association
would like to extend a heartfelt appreciation to the vehicle participants, sponsors, downtown businesses, and spectators for their support of Wheels on Main and making this event a big success on Sunday, Sept. 3.
This event wouldn't have been possible without the 440 participants who had their fantastic vehicles on display.
We would like to thank all our volunteers who helped at vehicle registration, selling coffee and donuts, 50/50 raffle tickets and in the beverage tent. West Bend Police Explorers and local police did an outstanding job making sure everything ran smoothly.
Thanks too to the 22 judges who spent the afternoon reviewing all of the vehicles and the pig roast by Jodi Janisse-Kanzenbach at Café Soeurette was a big hit.
Finally a huge thanks to all our sponsors.
The three major sponsors were: Heiser, Connect Cell and Boss Realty.
Trophy sponsors included: Hetzel Law Office, Shell West, The Booster, Alexssa Enterprises, Baird, Muggles Bar, Bob's Main Street Auto and Towing, Bumper to Bumper, United Way of Washington County, West Bend Super Lube, Sal's Pizza , All in Books, Daco Precision Tool, Washington House Pub, Lifetime Exhaust, R/T Speed Shop, Silver Spring Collusion Center, Slesar Glass, Jay's Auto Body Collision Specialists, Elite Engines, Dave's H-D Truck & 4×4 Repair, Brazen Head Pub, Wisconsin Windshield Centers, Smokin' Ink, PMF Landscape Supply, Candyman on Main, West Bend Dyno Tuning, Badger Trailer Sales and TD Graphics.
With gratitude,
Anna Jensen
Events Director Downtown West Bend Association