Live coverage Friday, Sept. 28 of Slinger Owls varsity football game | By Steve Stanek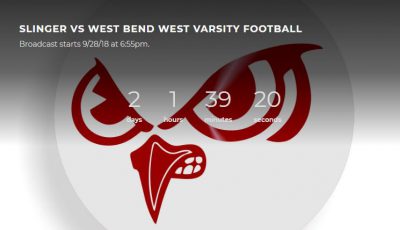 Sept. 26, 2018 – Slinger, WI – Friday's varsity football game between the 5-1 Slinger Owls and the 0-6 West Bend West Spartans will be streamed as a live broadcast available to the public.
The Owls hope to extend its 2 game win streak and continue to build momentum towards the 2018 playoffs.
The game can be viewed from any device with access to the web using any of the links below.
You can preview the link at any time and the live video stream will begin at 6:55 PM on Friday, Sept 27, 2018.
Game at West Bend kicks off at 7 p.m.
Feel free to promote the link through social media and email to parents, staff,  and students.  Thanks for your help in allowing everyone in Hootie Nation, no matter where they are, support the Owls!