Multiple power outages across Washington County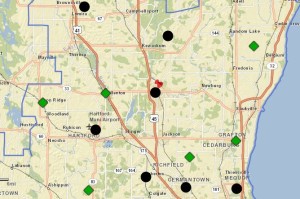 High winds are being blamed for numerous power outages, dozens of downed trees and countless runaway garbage carts.
Earlier today more than 15,740 people were without power in West Bend. As of 8 p.m. there are 218 outages.
In the Town of Trenton 2,161 lost power, Village of Richfield had 5,287 outages, Village of Kewaskum had 1,942 people without power, Town of Hartford 1,649, Village of Germantown 9,941, Town of Erin 1,978, Town of Barton 1,366 and 1,763 in the Town of Addison were without power.
In West Bend the city experienced power outages at Butternut Street and S. Main Street, Silverbrook Drive and Washington Street and at Washington Street and Seventh Avenue.
The city has set up generators at these locations to power traffic signals, and We Energies is scheduled to repair the outages this evening.
We Energies crews have restored a majority of the power issues across Washington County.
The National Weather Service reported wind gusts up to 50 miles per hour around 3 p.m.  Below is a graph from the NWS.
Strong winds are also being blamed for a power out on Main Street in West Bend. The outage forced the cancellation of Thursday's BID Strategic Planning Committee meeting.
Neighbors  are being advised to contact We Energies at 1-800-662-4797 to report any additional outages.