Neighbors in West Bend mourn the loss of "quiet community leader" Jeff Klotz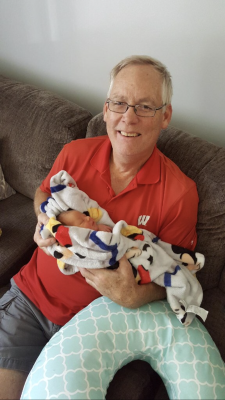 Oct. 6, 2018 – West Bend, WI – Neighbors in West Bend are mourning the loss of community leader Jeff Klotz.
Klotz was co-owner of the Piggly Wiggly in West Bend, Campbellsport and in April 2016 he purchased a store in Fond du Lac.
George Prescott of West Bend was a fellow grocer. "I've got a lot of respect for him," said Prescott. "He had good service, a good reputation and I'm just shocked."
Bob Bonenfant, formerly with WBKV Radio, knew Klotz personally and worked with him on radio ads.
"I just liked the guy," said Bonenfant. "I never saw a person who worked so hard in his life. He was always here at the store and he was working."
Klotz had a very high profile at the store on Highway 33 in West Bend. He could be seen regularly in the aisles wearing his green Piggly Wiggly apron and talking to customers or stocking product.
"For an owner he did everything from stocking shelves to making sure the carts were picked up," said Bonenfant.
West Bend Mayor Kraig Sadownikow said, "Jeff Klotz was a quiet leader and a man who gave hundreds of high school kids the opportunity to have their first job."
There were over 200 employees in the current Klotz Piggly Wiggly family.
Todd Tennies said Klotz was always a big supporter of high school athletics. "I know he had a son who was a good football player and he donated a lot to sports groups. He was always very community minded and I'm saddened by his loss," said Tennies.
Jeff Szukalski, owner of Jeff's Spirits on Main, was shocked by the news.
"Jeff was a great guy, great friend, great business guy and he cared about the kids in the community," he said. "He was always there to pitch in for the Food Pantry and for the West Bend Christmas Parade."
Klotz's Piggly Wiggly was previously located on N. Main Street in Barton. The store moved to E. Washington Street in 2004. Jeff Klotz was active in the West Bend Baseball Association, West Bend Christmas Parade, youth sports leagues and the West Bend Food Pantry.
The Washington County Sheriff Deputies were called to Klotz's home in Kewaskum early Friday morning.
An autopsy shows Klotz died from natural causes related to high blood pressure. Services for Jeff Klotz will be held at St. John's Lutheran Church in West Bend. Details will be posted by the Phillip Funeral Home. Early plans are set for Thursday, Oct. 11, 2018 3 p.m. – 6 p.m.