Obit: Ralph W. Liepert, 91, of West Bend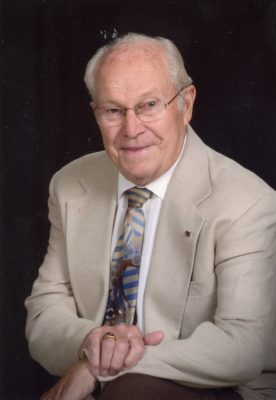 August 12, 2017 – West Bend, WI – Ralph W. Liepert, 91, of West Bend, passed away on Thursday, August 10, 2017, at his home with his family at his side. He was born on July 5, 1926 at home in the town of Farmington and was the fourth of 8 children to Walter and Martha (Quaas) Liepert.
Ralph attended Washington one-room school for 8 years, attended Kewaskum High School for 4 years, and belonged to the class of 1944. He worked the farm with his dad until 1951. He married Marilyn L. Albinger on May 12, 1951 in the Fifth Avenue United Methodist Church in West Bend by Rev. D.L. Wandschneider.
In 1949 Ralph started at the West Bend Company and worked for 39 years. 18 years as a foreman and retired in 1988. On December 3, 1951, Ralph entered the U.S. Army and was with the 25th Lightning Division, stationed in Korea for one year. He received the rank of Corporal and was discharged on September 3, 1953 in Indiana.
In his years of service he also received a Sharpshooter's Badge, United Nations Medal, Korean Service Medal, and National Defense Service. Ralph was honored to be included in the Stars and Stripes Honor Flight to Washington D.C.
Ralph belonged to the Fifth Avenue United Methodist Church in West Bend all his life. He also belonged to the V.F.W. Fred A. Schaefer Post #1393 in West Bend, to the Moose Lodge #1398 in West Bend, the Modern Woodmen #2256, and the West Bend Company 25 Year Club. He loved hunting, fishing, gardening with his grandson, Ian by his side, and fixing things. Ralph never threw anything away and was the original recycler and had a purpose for everything. Above all else in life he loved his wife, family, and church.
Ralph is survived by his wife, Marilyn; two sons, Kenneth (Karen) Liepert of Kewaskum and Randall (Aimee) Liepert of West Bend; a grandson, Ian Liepert of West Bend; a brother, Willis (Janis) Liepert of Sheboygan Falls; a sister, Janice (Allan) Kempf of Chilton; a sister-in-law, Gloria Liepert of Kewaskum; two brothers-in-law, Paul (Donna) Albinger and Tom (Patti) Albinger both of West Bend; many nieces, nephews, cousins and friends.
In addition to his parents, Ralph was preceded in death by his siblings, Lois (Wally) Junge, Verna (Glen) Grasse, Lloyd (Myrtle) Liepert, Lyla (Bob) Boerger, and Elton "Bud" Liepert; his parents-in-law, Albert and Louise Albinger; two sisters-in-law, Luella Liepert and LaVerne Junge and a brother-in-law, Mike Siebenaler.
Funeral services for Ralph will be held at 3 p.m. on Sunday, August 13, 2017, at Fifth Avenue United Methodist Church, 323 South Fifth Avenue, in West Bend, with Rev. Clarissa Martinelli and Rev. Wes Falk officiating.
Ralph's family will greet relatives and friends at the church from 1 p.m. until the time of service. Burial will take place at Washington County Memorial Park the following day with Military Honor Rites by the V.F.W. Fred A. Schaefer Post #1393.
Memorials to Fifth Avenue United Methodist Church in West Bend, the Stars and Stripes Honor Flight, or the Cedar Community Foundation are appreciated.
The family would like to extend their heartfelt appreciation to the Cedar Lake Hospice Team: Sara, Rachel, Shelly, Angela, Kim, Robin, Shelby, Deb, and Chaplain Bev for the loving care provided to Ralph and family.