May 11, 2022 – West Bend, WI – Genevieve "Gen" Albiero, 94, passed peacefully away Monday, May 9, 2022, at The Cottages of Cedar Community.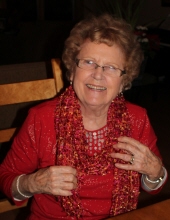 She was born on November 6, 1927, to Arthur and Olive (Mueller) Heppe in West Bend, WI. She grew up on the family dairy farm in Jackson, graduated from West Bend High School, then worked for Whitehouse Milk until she started her family.
Gen married Victor Albiero on January 15, 1955. They had six children: Tom (Mary Ann) Albiero, Peggy (Brian) Tornow, Greg Albiero (Mark Zampardo), Jacci (John Gambucci), Kris Boehmer (Jeff Bergland), and Rick (Jacque To) Albiero. Gen enjoyed her bridge groups, playing sheepshead, travel adventures, golf, and weekends to "The Shack" they shared with dear friends Shirley and Paul Lemler. Gen and Vic celebrated 58 years of marriage prior to his passing in 2013.
Vic and Gen were charter members of St. Frances Cabrini Parish where they were active in choir, funeral support, Casa Guadalupe and numerous other committees. Gen also actively supported Vic's philanthropic spirit in the community, including The YMCA, Fair Park, Riverfront Parkway and many other local organizations. Gen was a model mother committed to her children, instilling values of faith in Jesus Christ, family, honesty, and integrity. She fully enjoyed all the love and antics of her grandchildren. Gen's hardworking, dignified, and sweet nature was evident to all. She was known for her beautiful smile, even throughout her Alzheimer's journey.
Gen is survived by their six children; 14 grandchildren: Will (Katie), Casey (Josh Murdoch), Sam (Jac), Paige (Sean Tipple), and Max (Becca) Albiero; Kelly, Kara (Rett Deinlein) and Jeff Tornow; Alyssa (Adam Bazelak), Joe (Haley) and Gina (Nick Kriesel) Gambucci; Matt, Tommy and Allie Boehmer; 13 great-grandchildren, sister-in-law Dot Albiero, sister-in-law Judi Albiero, and many nieces and nephews.
Gen was preceded in death by her parents, sister and brother-in-law Joan (Ralph) Schellinger, sister and brother-in-law Dorothy (Reuben) Hoelz, brother and sister-in-law Richard (Val) Heppe, brother and sister-in-law Luke (Agnes) Heppe, sister-in-law and brother-in-law Mary (Jim) Corbett, brother-in-law and sister-in-law Angelo (Gerry) Albiero, and brother-in-law Frank Albiero.
A special thanks to all of the caregivers of Cedar Community, specifically Cedar Ridge, Cedar Bay East, and The Cottages over the past 10 years, as well as the Cedar Hospice team.
A private burial will be held at Holy Angels Cemetery, followed by a Mass of Christian Burial this summer, date to be announced.
Memorials may be sent to the Love One Another Campaign at St. Frances Cabrini, 1025 S. Seventh Avenue, West Bend WI 53095.