Obituary | Robert (Bob) Calhoun, 74, of West Bend
August 30, 2019 – West Bend, WI – Robert (Bob) Calhoun, 74, of West Bend went home to be with his Lord and Savior Jesus Christ with family by his side on Wednesday August 28, 2019. He was born in Milwaukee on November 30, 1944, and at an early age moved to Silver Lake in West Bend. He graduated from West Bend High School in 1963. His love of the lake and swimming led him to become a state champion swimmer. After graduation, he served six years in the National Guard Reserves.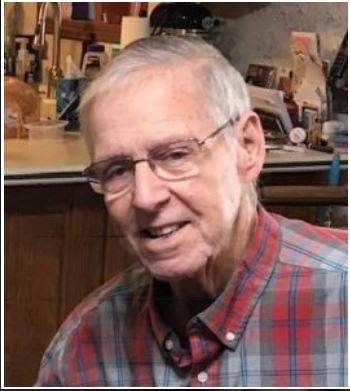 Out of a desire and calling to help people, Bob joined the Washington County Sheriff's Department, where he was a Deputy for 29 years. In 1991 he was honored as the Deputy of the Year by the Noon Rotary Club of West Bend. After retirement, his caring spirit led Bob to spend 18 years as a driver and friend to many for the Washington County Shared Ride Taxi Service.
He was united in marriage to Susan (nee Hunter) in 1982. Bob and Sue enjoyed travelling, especially to warmer climates. For some time, they were avid SCUBA divers and enjoyed being members of the Urge to Submerge dive club. Bob also enjoyed playing cards and dining out with friends.
In recent years, Bob and Sue joined Immanuel United Church of Christ, where they found a faith home and a loving church family. He also attended Bible study with a close knit group of friends.
Bob was a kind, loving and gentle spirited man with a quick wit, and mischievous sense of humor. His positive attitude was always evident even during his courageous battle with cancer. He was loved by many and will be deeply missed.
Bob is survived by his loving wife Sue, son Brian (Christi) Cessop of Albuquerque, daughter Lisa Cessop of West Bend, and grandchildren Ian and Ella Cessop. Bob is further survived by two sisters, Sue Smithers and Mary Rolf, both of West Bend, along with many other relatives and friends.
Bob was preceded in death by his parents Robert and Elsbeth (Toepfer) Calhoun, his in-laws Ray and Mariette (Wollman) Hunter, and his brothers- in-law, Alan Hunter, Gordy Rolf and John Smithers, as well as other members of his immediate and extended family.
Visitation will be from 11 am to 12:45 pm on Saturday, September 7 at Immanuel United Church of Christ (501 Walnut St West Bend) with a Memorial Service following at 1 pm. Pastor Rich Vincent will be presiding. A light lunch will be served after the service.
In lieu of flowers, memorials are appreciated to Immanuel United Church of Christ or to Kathy Hospice, both in West Bend.
The family wishes to thank Dr. Colin Mooney and the staff at Kramer Cancer Center and the Horizon Home Hospice Care Team. The family also extends their most sincere gratitude to the team at Kathy Hospice for their loving and compassionate care of Bob in his final hours. The love and support of many friends will always be cherished.