Obvious damage from high winds in Washington Co.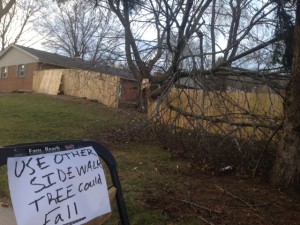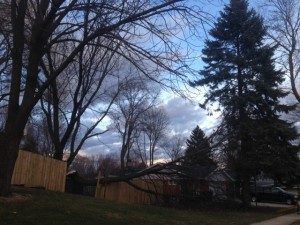 Some obvious high-wind damage across West Bend and Washington County after 50-mile an hour winds swept through town. This tree split in half at Hawthorn and Badger in West Bend. Nobody was injured. The homeowner said it happened around 2 p.m. on Wednesday.
High winds are being blamed for numerous power outages, dozens of downed trees and countless runaway garbage carts.
At its peak there were 15,740 people without power in West Bend.
In the Town of Trenton 2,161 lost power, Village of Richfield had 5,287 outages, Village of Kewaskum had 1,942 people without power, Town of Hartford 1,649, Village of Germantown 9,941, Town of Erin 1,978, Town of Barton 1,366 and 1,763 in the Town of Addison were without power.
In West Bend the city experienced power outages at Butternut Street and S. Main Street, Silverbrook Drive and Washington Street and at Washington Street and Seventh Avenue.
Generators were set up at these locations to power traffic signals.

  We Energies reported more than 40,000 power outs across southeastern Wisconsin.