Washington Co., WI – With Christmas 2019 in the rear-view mirror, neighbors across Washington County are already pulling down their Christmas trees.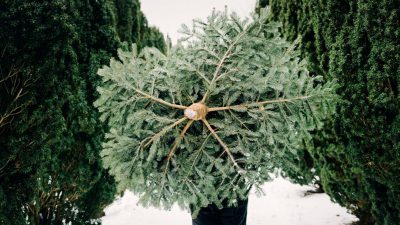 First, make sure your tree is ready:
Remove all ornaments, lights, tinsel and garland from tree
Do not put the tree in a plastic bag;
Do not block the sidewalk;
Do not plant the tree in a snowbank. This makes it hard to distinguish from live trees.
Town of Addison – Christmas trees may be brought to the brush collection site located on the north side of WI-33, east of the Rock River and west of Norse Building Products on Saturday,  January 5, 2020 from 10 a.m. to 2 p.m.
City of West Bend – Christmas trees will be collected curbside on the SAME DAY as your garbage day pick up January 14-17, 2020.
Village of Germantown – trees will be collected curbside the entire month of January 2020.
Village of Richfield – Christmas tree drop-off is available outside the gates of the Transfer Station/ Recycle Center. Bring it any time before January 31.
City of Hartford – brush pickup is January 6-9, 2020.
Village of Slinger – Christmas trees pickup starts first week in January.  Trees should be left curbside with the cut end of the tree facing towards the roadway.  Should you choose to remove the tree yourself it can be dropped off at the Public Works yard and placed along the north fence line near the mulch pile.
Calls have been place to the Village of Kewaskum, Jackson, Allenton, Town of Erin, etc.
This post will be updated when info becomes available.
Photo courtesy Getty Images