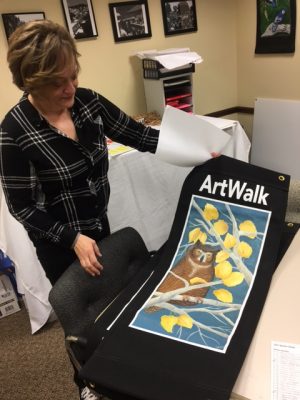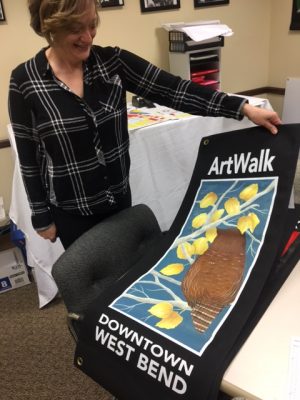 March 18, 2017 – West Bend, WI – A unique banner hand-painted by Lynn Barber of Port Washington has been submitted for 2017 ArtWalk. The title of the banner is 'Great Horned.'
The Downtown West Bend ArtWalk is Saturday, May 13 from 4 p.m. – 7 p.m. at the Museum of Wisconsin Art. The event will feature free admission to MOWA and a silent auction of banners.
Take a peek at this year's hand-painted banners before they go up along Main Street in the downtown.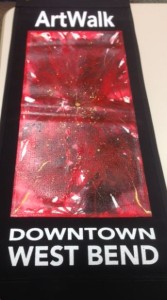 The banners by local artists will create an outdoor gallery on the streets of Downtown West Bend.
The banners hang on the light poles of Main Street and Sixth Avenue from May through October.
Pamphlets will be available at downtown businesses offering a synopsis of the banners.
The Downtown West Bend Association and participating businesses make the event possible.