October 6, 2022 – Hartford, WI – It was April 2022 when Horizon Outfitters first opened its doors at 28 E. Jackson Street in Hartford, Wi.
Now, six short months later, the locally owned outdoor adventure and supply store is expanding and moving to Main Street.
"Since we've opened, we changed the store around a bit but for the size of our store and what we now carry we need more room," said shop owner Robert Ott. "We have about 1,400 square feet here and what we're moving to is about 34,000 square feet."
Click HERE to SUBSCRIBE to FREE local news at
Ott and his wife Elizabeth are moving to the former location of Expedition Supply on Main Street also known as the old Rippey's Garage.
"We will be in the weekend of November 1," said Ott. "We like the size and layout of the new store and we're now in the same building as Expedition Supply."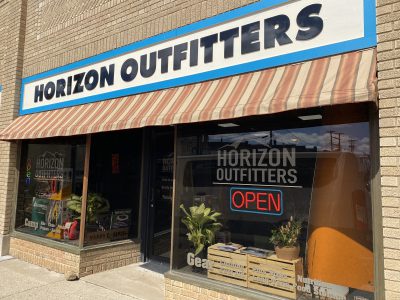 Horizon Outfitters has become a hotspot for freeze-dried foods and outdoor clothing.
One of the big additions to the new store will be an archery department. "We all started doing archery and our daughter got into the sport and we love it," said Elizabeth.
"We're excited for the move, and we have a little trepidation," said Elizabeth. "We're relying on the community and hope they come in. We have a great store… we just need more people to see it."
"We're hoping the exposure on Main Street brings us more attention," said Ott.
Ott is still in the midst of a 3-year lease on its current location. There are plans in the works for the space…. stay tuned as the couple explore an entertainment venue.