June 22, 2020 – West Bend, WI – Working on a magazine story with Jim and Marty Burch from Big Cedar Bluegrass and Jim mentioned his dad worked for Mallard Coach Corp. in the late 1960s and early 1970s.
Below is a bit about the locally-owned company that used to have a factory in a small building on Highway G in West Bend and by Mies Products on Hi Mt Road and Salisbury Road in Barton.
Mallard Coach was originally started by Leo and James Geib and Lovell DuCharme in a building on Indiana Ave and was then acquired from them by the Hron's.
Sylvester Hron and his brother Webster "Web" Hron (Feb. 13, 1927 – June 27, 2015) lived in West Bend and worked at Barton Products. Later, Web and his brother acquired Mallard Coach. Web traveled throughout the United States setting up dealerships.
According to a post in Pop-up Camper History…
The Mallard Coach Corporation was founded in 1952 by Sylvester W. "Vesy" Hron and was located in West Bend, Wisconsin. Sylvester Hron was the majority shareholder and served as president from 1954 to 1969. Like many entrepreneurs Sylvester Hron founded and managed several businesses in the West Bend area and was very active in local civic activities. Mallard Coach Corp. initially manufactured travel trailers. During the 1960's tent campers, truck campers, motor homes and snow mobiles were added to their product line.

Mallard expanded into the tent camper market in 1964. Offered were two models, the Canvasback (model c140) and the Decoy. The Decoy was came as either the Deluxe (model c120) or the Standard (model c80). The Canvasback was a very unique and original camper. Unfolded it looked identical to a prairie schooner from the 1800's. Very different, to be sure. It retailed for $745.00, or $5098.19 in 2009 dollars. The Decoy was of the typical design of the time, tent top with two side beds. The two models retailed for $679.00 and $589.00, or 4,646.54 and 4,030.65 respectively in 2009 dollars.

In keeping with the competition the Canvasback hard top camping trailer was introduced in 1966. It featured an aluminum top with 77 inches of space between the floor and the roof. Strange enough the Canvasback c140 model was still in the lineup, but the more traditional designed Decoy was dropped.

Sylvester Hron sold Mallard Coach Corp. to The Entwistle Company based out of Providence, R.I. in 1969. He served Mallard as the chairman until he retired from that post in 1971. After the sale of Mallard facts regarding the Mallard Coach Corp. are sparse. It appears that tent campers and snow mobiles were discontinued after 1970. The focus was back to manufacturing travel trailers.

On December 16, 1986 the Mallard Coach Company, Inc. was incorporated in the state of Florida. At the time of this writing I do not have the facts concerning when the Entwistle Company divested itself of Mallard and why. In May 1992 Mallard Coach ceased its manufacturing operations and filed for Chapter 11 bankruptcy protection. At some point after this Fleetwood purchased the Mallard brand name and used it for a line of their travel trailers. Fleetwood file for bankruptcy in 2009. Sylvester Hron died on June 10, 2004.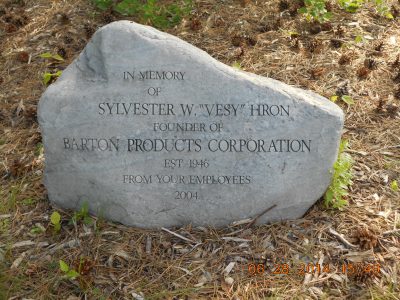 Sylvester Hron also expanded into snowmobiles. The article below by Les Pinz is from Dec. 30, 2010 and was published in American Snowmobiler magazine.
In 1967 Keith Hubers built a prototype snowmobile in Galva, Ill.
About the same time in West Bend, Wis., a travel trailer company, Mallard Coach, needed something to keep the factory busy during slow manufacturing times. Mallard's owner, Silvester Hron, saw that snowmobiles were selling like crazy across Wisconsin.It seemed the perfect match, so Hubers sold his design to Mallard Coach, while also making a snowmobile called Snowbirdie, which he later sold to Chaparral in Denver, Co.I've been told the first 12 Mallards used JLO motors and were painted red. Apparently most of those sleds were sold to, or ridden by, employees. The next 25 sleds were made with Mag single-cylinder motors that had been made in Switzerland.
Automotive Design

Mallard's touted themselves as the "First with Automotive Design," with the Mallard Sno-Wing featuring a molded fiberglass body that was pop riveted to its Uni-frame. That frame ran all the way to the rear of the sled, holding the rear axle. All Sno-Wings were a bright teal blue.The automotive design carried over to the suspension with the Sno-Wing using a rear leaf spring setup for the rear axle, which was made up of three 12- x 1-inch leafs. That was an "exclusive" feature for the Sno-Wing! Also, because of the leafs, the sled's body had to be made a bit wider than most.Sno-Wings featured a disc brake mounted on the front drive axle for direct braking and it had bicycle-looking handlebars and bicycle controls for the brake and throttle. It looked pretty unique!In the earliest of its sleds, in 1968, Mallard put the fuel tank under the seat. The problem was you had to unfasten seven snaps to fuel up; not very convenient. But by the 1969-'70 Mallards, a 4-gallon fuel tank had been moved to the sled's rear-end.Using Apex chain cases and Salisbury drive clutches Mallard didn't have much trouble with the mechanicals.The company literature claims that the 18-horsepower Mallard would move along the trail at 40 mph. It further says Mallard's "Automotive Design attracts the many who want worry-free family fun." Plus the promotional copy claims its "Dual headlights increase visibility range for safe nighttime 'SNO-WINGING.'"
All was not perfect though. Mallards had their problems. The JLO 292cc had a small head gasket that would blow out frequently. Additionally, its bogey wheels would flip over and tear up the track. Bad tracks also showed up from time to time.Ultimately the sleds required a lot of repairs and way too much warranty work as sleds were constantly coming back to be fixed. Hron finally decided to get out of the snowmobile business after the 1970 model year and after building somewhere between 200 and 400 units. Vintage sled collectors tell us they know of three 1968 models remaining.
Hron was upset with himself after the Sno-Wing's failure and sold off many of his spare parts, but with the rest built a big pile in his backyard. … then lit a giant bonfire. Later he admitted it was a very bad decision for his company to build snowmobiles.
Special thanks to Mike Knier and Valdi Stefanson for pictures and information regarding the Mallard.
Vintage camper photos courtesy ebay.